Eagles rise again in Edinburgh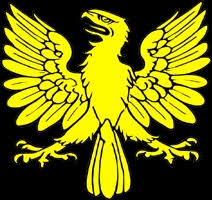 Glasgow's long been the dominant area for solo piping and pipe bands in Scotland, but a recent resurgence of the scene in Edinburgh has caused a few top players to band together to re-start that legendary Eagle Pipers' Society, with Colin MacLellan President, Iain Speirs Secretary, and Euan Anderson Honourary Pipe-Major.
The organization's first meeting will be on Tuesday, January 19, 2010, at the Scots Guards' Club at Haymarket Terrace, Edinburgh, at 7:30 pm, with meetings every second  Tuesday of each month thereafter.
"After all these years we decided that it was an opportune time to start the Eagle Pipers' Society again," MacLellan said. "The society was one of two in Edinburgh that we all attended and performed at in the 1970s as we grew up in Edinburgh. There is a burgeoning level of interest in piping again in Scotland's capital city and we are delighted that the Scots Guards Club has been made available to us as the new home of the Eagle Pipers."
The original organization was founded in 1960, taking its name from the organization's first meeting place, the Eagle Bar (now the Ensign Ewart) near Edinburgh Castle. The society fizzled in the early-1980s, as piping declined in the Edinburgh area, with its last meeting place the West End Hotel at Palmerston Place.
Through the 1970s, the Eagle Pipers held an annual indoor solo competition that proved popular with top players. The society welcomed invited guest recitalists, who were presented with an Eagle Pipers tie and became honourary members. Several of the ties still exist and are seen today as piping status symbols.
The new meetings will be mainly social, but a chance to hear good piping in an informal setting. Membership to the Eagle Pipers' Society is "open to anyone with an interest in the Great Highland Bagpipe," and costs £30 annually for UK-based members and £20 for those outside of the UK. All members will receive one of the organization's new ties.
MacLellan added: "The Guards Club in recent years has become the focal point of piping in Edinburgh and is an ideal venue with Jimmy Banks staging regular recitals and knock-out competitions over the past few years. Already the response to new membership both in Scotland and by way of international membership has been met by tremendous enthusiasm and we invite pipers everywhere to once again display the Eagle pipers tie by visiting our website at <a href="http://www.eaglepipers.com">www.eaglepipers.com</a> where anyone may join after making, as they say, a few clicks of the mouse."