Field Marshal Montgomery 2018 International Quartet Champions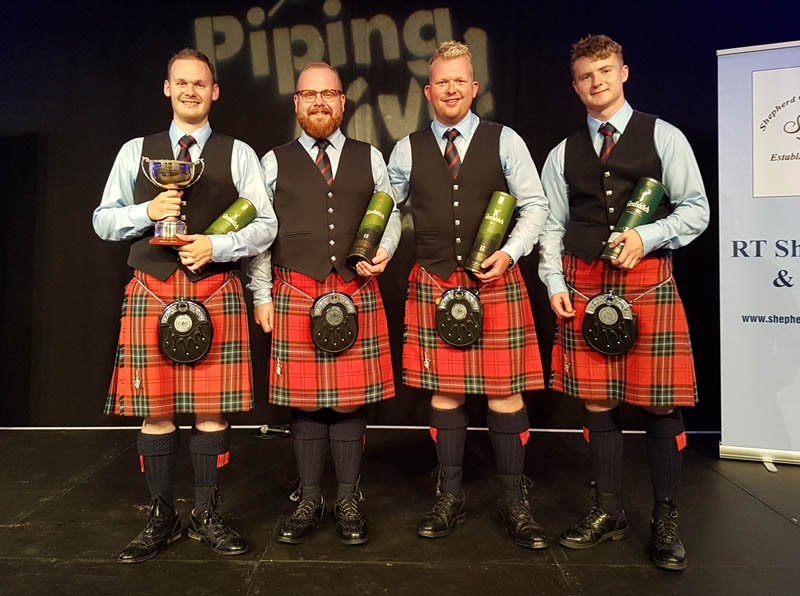 Glasgow – August 14, 2018 – One of the most nerve-shattering events in the piping world was won by Field Marshal Montgomery of Belfast, taking the 2018 International Quartet Competition, held at a packed Strathclyde Suite at the Glasgow Royal Concert Hall.
In a sold-out hall, MC Fergus Muirhead quipped about the room temperature being reflective of the hot summer Scotland has experienced most of the summer. Eight quartets delivered solid MSRs with standouts being FMM and Inveraray & District. All eight stepped it up even further in the medleys, with many outstanding performances with impeccable unison and brilliant tone.
Eight bands from around the world entered, each assessed by "secret" judges scattered throughout the audience in separate Medley and March, Strathspey & Reel events. The slightest finger slip or lapse in blowing is audible to the crowd, making it one of the most intense competitive experiences imaginable.
Also competing were Glasgow Police (Scotland), Johnstone (Scotland), Peoples Ford Boghall & Bathgate Caledonia (Scotland), Manawatu Scottish (New Zealand), New Zealand Police, and Simon Fraser University (Canada).
With the sweltering temperatures for the three hour event, it would have been a welcomed scenario to have only the top-four MSR placements advance to the medley final, although the medleys are most entertaining. Alternatively, for the price of admission (£16.50) comfortable temperatures and seats for all paying guests would make the event far more enjoyable in its existing format.
The contest is one of the marquee events of the Piping Live! Glasgow International Piping Festival.
Inveraray & District won the 2017 International Quartet Competition.