Filemon Tan: 2018 Nicol-Brown Champion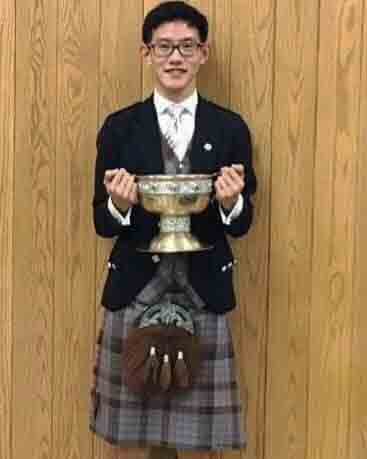 Scotia, New York – October 6, 2018 – The 35th annual Nicol-Brown Amateur Championship went to Filemon Tan of Bellaire, Texas, taking the world's most established non-professional solo piping competition.
Tan was the aggregate winner across Piobaireachd; March, Strathspey & Reel; and 6/8 March events, with the ceol mor event having a 50% heavier weighting. The contest was held at the First Reformed Church of Scotia, and all events were judged by eastern United States pipers Eric Ouellette and Nancy Tunnicliffe.
Filemon Tan last week also was the 2018 Epic Project recipient, presented by the House of Gordon. He accepted the award last weekend in Houston.
The competition is named in tribute to Robert Urquhart "R.U." Brown and Robert Bell Nicol, the famed Bobs of Balmoral, whose piobaireachd teaching greatly influenced ceol mor as it is heard today.
Competitors are selected by an organizing committee based on amateur pipers' competitive success over the past season.
The winner receives a stipend of up to US$750 to be used for travel expenses to compete at the 2019 Scottish Piping Society of London competitions, or other major solo contest in 2019, as approved by the organizing committee.
The event has a host of sponsors contributing prizes, including McCallum Bagpipes and reelpipes.com.
The nonprofit pipes|drums once again made a monetary contribution to the competition.
Piobaireachd (Robert Nicol-Robert Brown Chalice)
1st Filemon Tan, "Lament for the Only Son"
2nd Gavin Mackay, Kitchener, Ontario, "The MacFarlanes' Gathering"
3rd Kevin Darmadi, Houston, "MacLeod of Raasay's Salute"
4th Alistair Bevan, Abbotsford, British Columbia, "Nameless" (Hiharin Dro O Dro)
5th Tori Killoran, Pitt Medawows, British Columbia, "The Big Spree"
MSR (William Ross Challenge Targe)
1st Filemon Tan, "The Clan MacColl," "Piper's Bonnet," "Johnnie MacDonald's Reel"
2nd Tori Killoran
3rd Alistair Bevan
4th Gavin Mackay
5th Joseph Horwath, Saginaw, Michigan
6/8 March (Donald MacLeod Memorial)
1st Alistair Bevan, "Cameron MacFadyen," "Mrs. Lily Christie"
2nd Kevin Darmadi
3rd Tori Killoran
4th Filemon Tan
5th Brannagh O'Donnell, Assonet, Massachusetts
Also competing but not in the prizes were Ken Garson, Ottawa, and Alexander Seto, Aurora, Ontario. Charlie Morris of Agoura Hills, California, had to withdraw due to illness.