Finlay Johnston: 2018 Glenfiddich Champion
Blair Atholl, Scotland – October 27, 2018 – The Glenfiddich Invitational Solo Piping Championship was won by Finlay Johnston of Glasgow, taking the biggest prize there is in the art. The pinnacle of piping was held, as it always has been, at the Great Hall of Blair Castle situated in the Perthshire countryside. It was the first time winning the award for Johnston.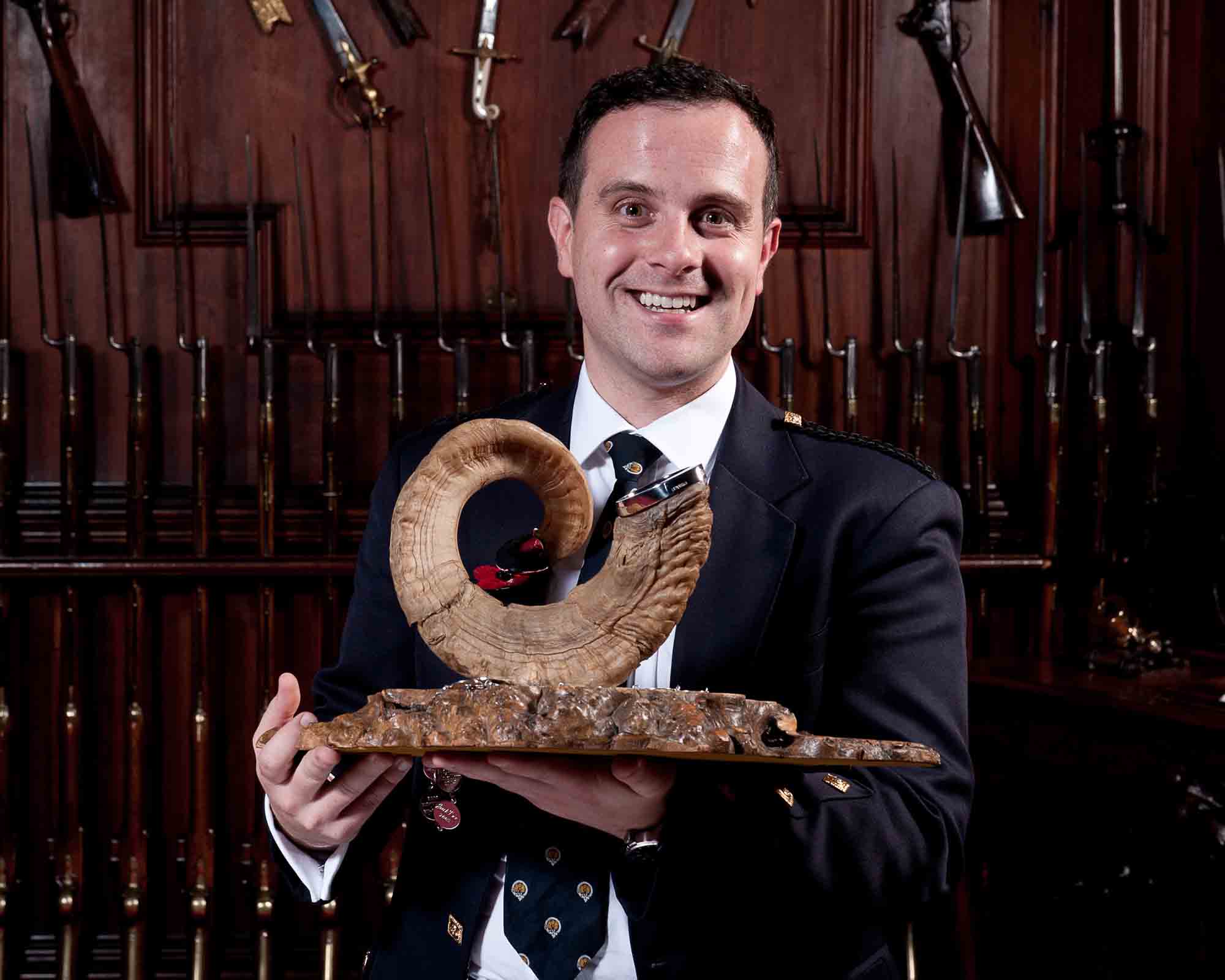 There were several other firsts for the Glenfiddich. Patricia Henderson became the first female to judge the event; it was the first time that a father and son – Bruce and Alex Gandy – competed together at the competition; it was the first time that a husband and wife judged together, with Murray and Patricia Henderson serving on separate benches; and Euan Anderson of Edinburgh emceed the event for the first time, doing an admirably good job.
Interestingly, every tune picked by the judges for the March, Strathspey & Reel event was only four parts, including many often heard in lower-grade events.
Adhering to the policies of both the Solo Piping Judges Association and the Competing Pipers Association, Colin MacLellan withdrew as an adjudicator after a pupil gained an invitation.
It was the forty-fifth successive year for the Glenfiddich Championship, started originally as the Grant's Invitational in 1973. William Grant & Sons distillers sponsored the contest, and today it is underwritten by the William Grant Foundation.
The competition was again streamed live for free on the internet, gaining at most about 850 viewers at one time, with well done interviews with financial journalist Fergus Muirhead.
The Balvenie Medal, for services to piping, was presented by Ken Eller to Cristiano Bicudo of Sau Pauolo, Brazil, a suitable recipient for his voluntary, unpaid contributions to the art in South America.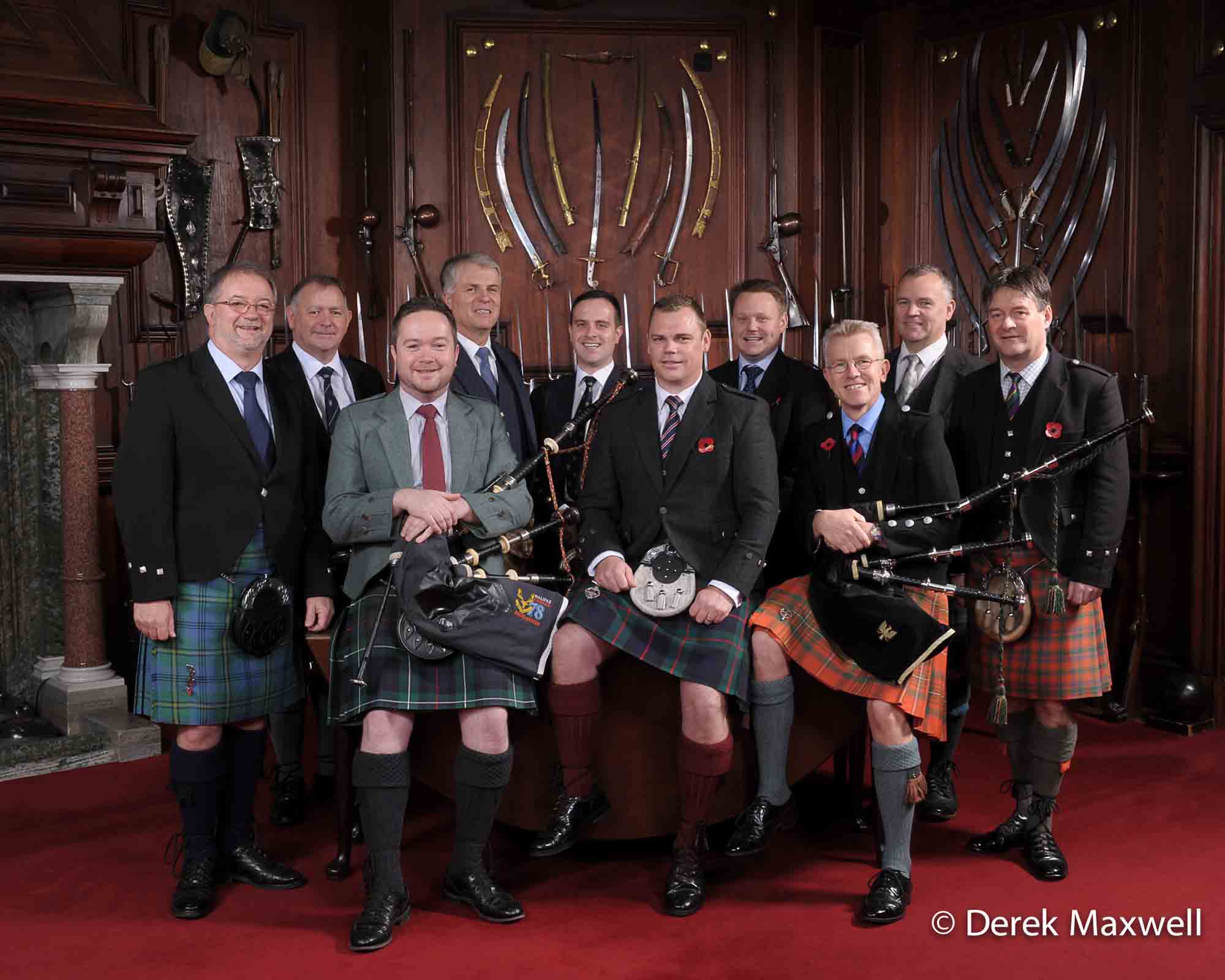 Competitors at the 2018 Glenfiddich Championships (L-R): Bruce Gandy, Roddy MacLeod, Alex Gandy, Jack Lee, Finlay Johnton, Stuart Easton, Callum Beaumont, Peter McCalister, Stuart Liddell and Angus D. MacColl [Photo Derek Maxwell]
Overall
1st Finlay Johnston
2nd Callum Beaumont, Linlithgow, Scotland
3rd Stuart Liddell, Inveraray, Scotland
4th Angus D. MacColl, Benderloch, Scotland
5th Alex Gandy, Dartmouth, Nova Scotia
Piobaireachd
1st Finlay Johnston, "My Dearest on Earth, Give Me Your Kiss"
2nd Stuart Liddell, "In Praise of Morag"
3rd Angus D. MacColl, "The Bells of Perth"
4th Callum Beaumont, "Craigellachie"
5th Stuart Easton, Palmerston North, New Zealand, "The Unjust Incarceration"
Judges: Patricia Henderson, Dr. Angus MacDonald, John Wilson
MSR
1st Callum Beaumont, "Miss Elspeth Campbell," "Tulloch Castle," "Miss Proud"
2nd Alex Gandy, Dartmouth, Nova Scotia, "Mrs. H.L. MacDonald of Dunach," "Bob of Fettercairn," "Drumlithie"
3rd Finlay Johnston, "Mrs. John MacColl," "The Islay Ball," "The Rejected Suitor"
4th Angus D. MacColl, "Craig-n-darroch," "Susan MacLeod," "Captain Lachlan MacPhail of Tiree"
5th Stuart Liddell "The Abercairney Highlanders," "Shepherd's Crook," "The Cockerel in the Creel"
Judges: Murray Henderson, Stuart Samson, Bob Worrall
Also playing were Bruce Gandy, Dartmouth, Nova Scotia; Jack Lee, Surrey, British Columbia; Roddy MacLeod, Glasgow; and Peter McCalister.
To see how each contestant qualified to receive an invitation:
+ Glenfiddich contestants confirmed