Finlay Johnston wins 2019 Uist & Barra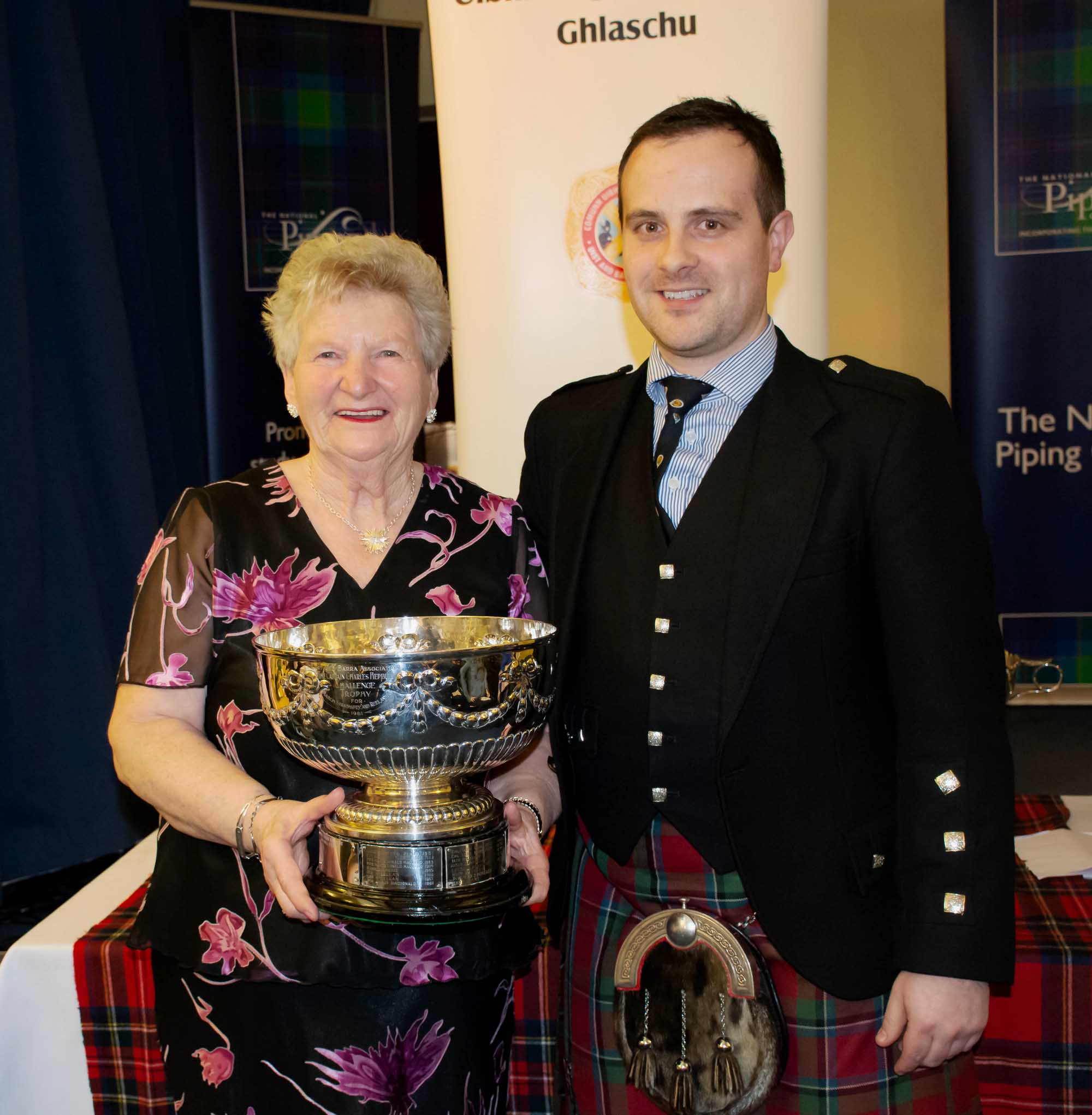 Glasgow – March 2, 2019 – 2018 Glenfiddich Champion Finlay Johnston of Glasgow got his year off to a good start by winning the traditional first big solo piping event of the Scottish year, the Uist & Barra Invitational, held at the National Piping Centre-Otago Street. Invitations were extended to the winners of the most significant prizes in 2018 for those graded A or Premier by the Competing Pipers Association. There was a strong audience, and standing-room only for the light music.
Piobaireachd
1st Finlay Johnston, "The Battle of Aldearn" #1
2nd Iain Speirs, Edinburgh, "I Got a Kiss of the King's Hand"
3rd Angus MacColl, Benderloch, Scotland, "MacLeod of Raasay's Salute"
4th Cameron Drummond, Edinburgh, "The Earl of Seaforth's Salute"
5th Glenn Brown, Glasgow, "Beloved Scotland"
MSR
1st Finlay Johnston, "John MacColl's march to Kilbowie Cottage," "Lady MacKenzie of Gairloch," "The Sheepwife"
2nd Angus MacColl, "Craig-n-Darroch," "John Roy Stewart," "The Grey Bob"
3rd Willie McCallum, Bearsden, Scotland, "Capt Campbell of Drum a Voisk," "Duncan Lamont," John Mackechnie's Big Reel"
4th Connor Sinclair, Crieff, Scotland, "David Ross," "Tulloch Castle," The Smith of Chilliechassie"
5th Roddy MacLeod, Glasgow, "The Marchionness of Tullibardine," "Arniston Castle," "Thompson's Dirk"
Hornpipe & Jig
1st Angus D. MacColl, "Jimmy Blue," "Cailleach an Dúdain"
2nd Willie McCallum, "Dr. MacInnes's Fancy," "John Paterson's Mare"
3rd Finlay Johnston, "Redondo Beach," "Donella Beaton"
4th Sarah Muir, Glasgow, "The Sorcerer," "The Geese in the Bog"
5th Cameron Drummond, "The Ladies' Hornpipe," "Angus John MacNeill of Barra"
Also competing were Ben Duncan, Edinburgh; Alasdair Henderson, Dunoon, Scotland; Cameron MacDougall, Nigg, Scotland; Peter McCalister, Dunblane, Scotland; Niall Stewart, Kyle of Lochalsh, Scotland; and Sandy Cameron, Roy Bridge, Scotland.
Murray Henderson, Dr. Angus MacDonald and Stuart Samson judged all three events.