First Boney Invitational goes to Troy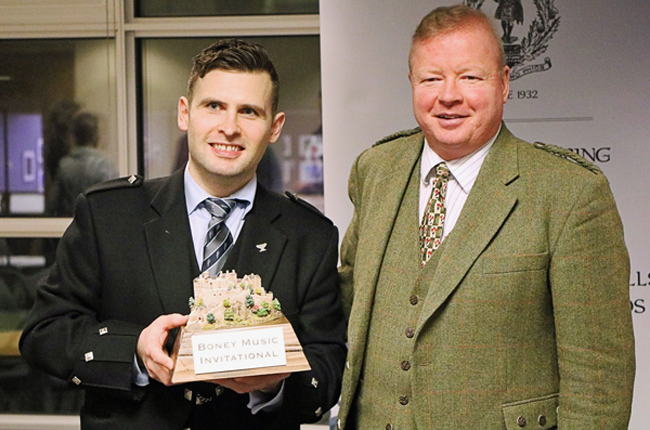 Burnaby, British Columbia – February 13, 2016 – The inaugural Boney Music Invitational Piping Competition took place at Simon Fraser University's Halpern Centre, where James P. Troy of Victoria, British Columbia, took the top prize for his 20-minute freeform recital performance. The contest was organized by the well known piper Andrew "Boney" Bonar and the British Columbia Pipers Association.
Alastair Lee, Surrey, British Columbia, was runner-up and also performing were Jori Chisholm, Seattle; Andrew Lee, Surrey British Columbia; and Brittney Otto, Vancouver. The five competitors comprised the top five finishers from the BCPA's 2015 Grand Aggregate Professional Solo Piping standings.
The event was judged by five judges seated in the audience. The players were not aware of who was judging. The judges were not aware of who the other judges were.
Each performer entertained the audience of more than 100 with a 20-minute recital within which each had to perform a ground of a piobaireachd, a four-parted 6/8 march, two two-parted strathspeys, tunes composed by a member of the BCPA and tunes composed by Canadian composers not from British Columbia. The performers filled the remaining time with tunes of their choice.
The evening was organized as a benefit to raise funds for the BC Cancer Foundation, a cause that the British Columbia piping and drumming community has backed since Bonar was diagnosed with a rare brain cancer, for which he continues to receive treatment. More than $950 was collected on the night.
Andrew Bonar was recognized on the night by the BC Cancer Foundation for his support of brain cancer research in the province, and Jori Chisholm made the presentation, quoting Rev. Dr. Martin Luther King, Jr.: "Life's most persistent and urgent question is, 'What are you doing for others?'"