First-class MacLellan Memorial players checking in to Edinburgh Waldorf Astoria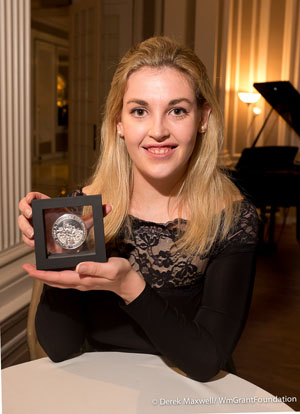 The holder of the Clasp, the current Glenfiddich Champion, the 2017 Inverness Silver Star and Dunvegan Silver Chanter winner, and the reigning medal-holder are all on tap to perform in the Captain John MacLellan Memorial Dinner Recital Competition at the Caledonian Waldorf-Astoria in Edinburgh on August 26th, smack-dab in between the Argyllshire Gathering and the Northern Meeting.
Relative to the above, Iain Speirs, Jack Lee, Cameron Drummond and Faye Henderson will perform a piobaireachd by or closely associated with the late, great MacLellan at the event, which has emerged as one of the highlights on the world's solo piping calendar.
Interestingly, all but the Surrey, British Columbia-based Lee are from Edinburgh.
"I don't think there could be a better line-up of piobaireachd players," said organizer Colin MacLellan. "It's a dream team of ceol mor"
The event is held at one of the best hotels in the UK. The five-star Caledonian Waldorf Astoria at the west end of Edinburgh's iconic Princes Street, offers a sumptuous setting and a dinner to match. The unique recital format competition has been moved to a Sunday this year, in part to avoid the Saturday night fireworks that are part of the Edinburgh Festival.
Last year's winner, for the second time in the event's seven-year history, was Faye Henderson. Iain Speirs has won the event three times.
+ Faye Henderson wins MacLellan Memorial Medal
Tickets are not yet on sale, but those interested should contact organizer Tina Anderson.
Captain John MacLellan MBE was one of the greatest 20 pipers of the last 150 years, according to a panel of experts pulled together by pipes|drums in 2016.
+ The Greatest 20 Pipers in History
The Captain John MacLellan Memorial Medal is sponsored by the William Grant Foundation.