FMM has limited strategy for CD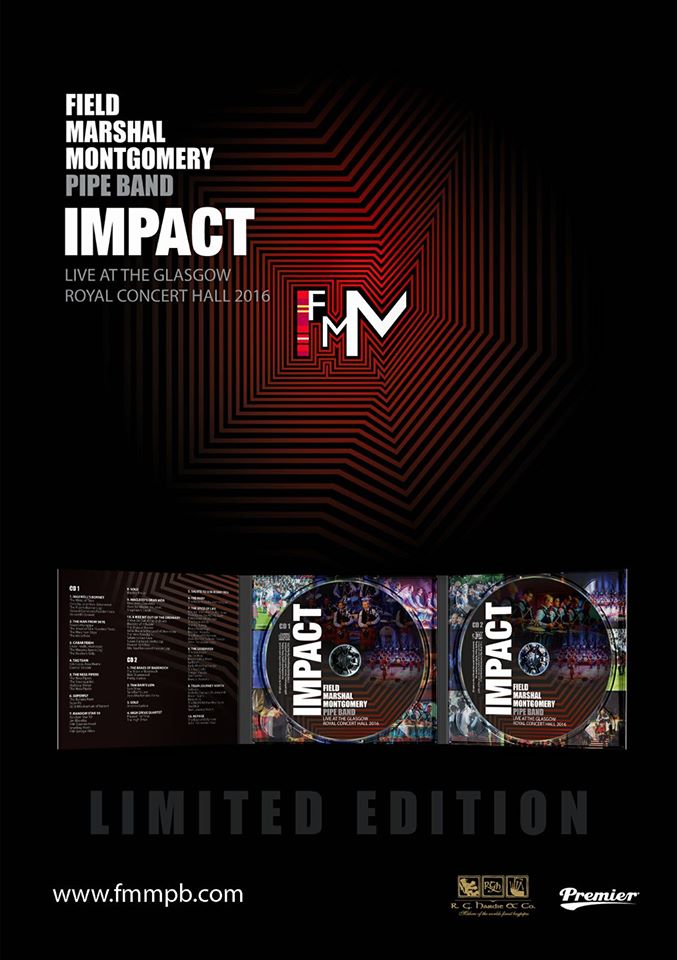 In an era when recordings of every type are posted – often illegally – on the Internet, it becomes more and more difficult and impractical for bands and soloists to put out professional-quality commercial products.
Reigning and 11-time World Pipe Band Champions Field Marshal Montgomery are taking a novel approach to the release of their live CD of the band's "IMPACT" Pre-World's concert last August, by limiting availability to only one-thousand copies.
The limited edition double CD goes on sale on March 30th (GMT) via the band's website, priced at £15 for those quick on the draw.
"We are proud of the final recording of the IMPACT concert, which we were so fortunate to have produced by Murray Blair," Pipe-Major Richard Parkes said. "The limited edition is to make the product a more valuable and more sought-after piece of music for the listener."
Difficult to predict public reaction, especially considering the many amateur free bootleg recordings from the concert circulating on the net, the band is prepared to react if and when the limited edition thousand are sold.
"FMM will explore additional possibilities of presenting the recording to the public once the CD sales near completion," Parkes said.
Recordings of pipe bands and solo pipers have declined drastically since the advent of the Internet, and most pipe band CDs are taken from live events. The cost of operating a modern pipe band has also skyrocketed, often leaving few bands willing to take a risk with the investment often required by the band itself to create a product.
The paid stream or download of the January 2016 "Live In Ireland In Glasgow" concert at Celtic Connections reportedly was quickly beset with illegal copies circulating, impacting sales, and the free live streaming and archive recordings of the World Pipe Band Championships eventually resulted in the discontinuation of physical commercial copies of the event.
+ Era of World's recordings ends