Forrester wins Dunvegan Medal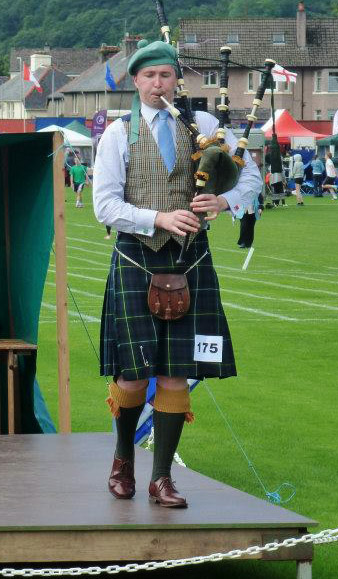 Portree, Skye, Scotland – August 7, 2018 – Jamie Forrester of London won the Dunvegan Medal for piobaireachd at the annual Skye Gathering at Portree, against 23 other contestants. Only three competed in the Clasp event, for winners of the Dunvegan Medal.
The piobaireachd events require competitors to submit from a list a compositions attributed to or closely associated with the MacCrimmon dynasty of pipers from Skye.
Dunvegan Medal (24 competed)
1st Jamie Forrester, "The Earl of Ross's March"
2nd Nick Hudson, Houston
3rd Cameron MacDougall, Nigg, Scotland
4th Finlay Cameron, Fort William, Scotland
5th Andrew Hall, London
Judges: Alan Forbes, Malcolm McRae, John Wilson
Clasp (three competed)
1st Simon McKerrell, Newcastle, England
2nd Derek Midgley, Tinton Falls, New Jersey
3rd Jamie Forrester
The light music consisted of two qualifying heats, one judged by Iain MacFadyen and John Wilson, the other by Malcolm McRae and Iain Morrison, with all four judges assessing the final.
March
1st Cameron MacDougall
2nd Peter MacGregor, Dunblane, Scotland
3rd Sarah Muir, Glasgow
4th Finlay Cameron, Roy Bridge, Scotland
5th Nick Hudson
6th Calum Wynd, Stirling, Scotland
Judges: Iain MacFadyen, Malcolm McRae, Iain Morrison, John Wilson

Strathspey & Reel
1st Finlay Cameron
2nd Ben Duncan, Edinburgh
3rd Nick Hudson
4th Darach Urquhart, Glasgow
5th Cameron MacDougall
6th Steven Gray
Judges: Iain MacFadyen, Malcolm McRae, Iain Morrison, John Wilson