Fred J.P. MacLeod, 1931-2018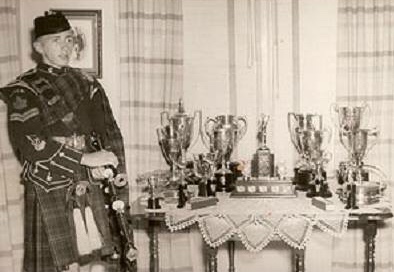 A staple of the Canadian West Coast piping scene in the 1950s and 1960s, Fred MacLeod passed away peacefully in his eighty-eighth year on June 17th, surrounded by his family.
He was born in Winnipeg, Manitoba, and piping was woven firmly into the fabric of his genes. His father, Donald, was a well-reputed competitor, and his half-brother, Bill, was pipe-major of the Cameron Highlanders during the Second World War.
Fred began piping lessons with his father at the age of three, and was a successful solo competitor at a young age, and pipe-major of the Cameron Highlanders army cadets as a teenager. In the early 1950s, he moved west to the mill town of Powell River, a land-locked community 160 kilometers north of Vancouver. At the time, the Powell River Paper Company was recruiting players on a scheme, which involved paid positions at the mill for players of repute from Scotland. Fred was one of the key members of the band's meteoric rise. The Powell River Company Pipe Band competed in the "A" Class (Grade 1) from 1953 to 1969, and from 1958 to 1963, the band was virtually unbeatable, competing at games in British Columbia, the Pacific Northwest and California. In 1961, the band recorded an album, The Pipes and Drums of Powell River, which, at the time, was the standard by which pipe band albums were measured. Legend has it that Fred was one of the few players who Pipe-Major Davie Westie did not cut during the recording process, as some tracks were rumoured to have featured as few as three pipers.
Fred was a prodigious and highly successful solo competitor in his day. He won the Pacific International Highland Games Association Grand Aggregate Championship in 1955 and 1956, and the aggregate award for the Open class at the British Columbia Pipers' Association Indoor contest three years straight, from 1954 to 1956. He also won aggregate awards at Seattle, Victoria, Portland, Vancouver, Los Angeles and San Francisco, with several "perfect days" registered on the boards during that time.
Fred was a devout Catholic, and family man. He was an extremely proud "papa," and I remember vividly how his study was adorned with pictures of his parents, children and grandchildren. In the years after his solo career ended, he was a regular instructor at piping schools in Saskatchewan and Alberta, including the school at Fort Qu'Apelle Sanitarium, the Highland Happening School in Red Deer, and the Saskatchewan Pipe Band Association summer school. Fred judged solo and band events frequently in the prairies, and in the mid-1990s, well into his sixties, he regularly travelled to perform compete with Rene Cusson's Pacific Gael Pipe Band.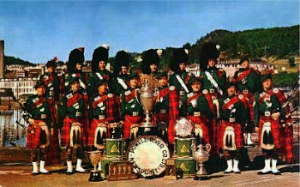 I first met Fred when I was nine years old, and my father brought me to his house for bagpipe lessons. Walking up to the front door, I will always remember how – placed prominently in front of his perfectly manicured lawn – was a tombstone, which read, "Here lies the last dog that pooped on my lawn." As it turns out, this display was but a minor glimpse into his sense of humour. I stopped attending lessons when my parents separated, but Fred gladly took me back a couple of years later when I decided to take up the pipes again. Our lessons always involved him singing, often involved him hitting my fingers with his sword-shaped Knights of Columbus letter opener when I made an error, and usually ended with him pontificating on the finer points of piping, who the great players of today were and why certain tunes should never be played in competition. Fred was a character, and had no shortage of opinions: to this day, I can't help but laugh every time I hear a band playing "The Conundrum"; I can almost hear him leaning in over my shoulder, and whispering into my ear that no one should play that tune because they all phrase it wrong!
Fred was also a fan of starting or finishing a lesson with me doing some sort of chore. He taught me exactly how he wanted his Chevy Astro van washed, and he was as exacting in his expectation of my performance in that regard, as he was in my execution of piping technique. As I moved into high school, I continued to play, but stopped seeing Fred as often. I would see him around town from time-to-time, and he would always extend the invitation for me to come back for lessons. I had moved to Regina for university, and had heard he was teaching at the Saskatchewan Pipe Band Association summer school at the Canadian Bible College. I showed up to the instructors' party, and saw Fred immediately. I went up to greet him, but before I could, he barked, "It's a good thing you're here," before flashing a wry smile, and handing me several cases of Pilsner out of the back of a car (which I promptly carried into the dormitory for him). After the beer was sorted, he did greet me properly, and we had a wonderful visit as those Pilsner disappeared. That interaction was typical of the way Fred approached life: get the work done, then have some fun.
– Submitted by Gregor Burton, Lake Country, British Columbia