Game, set, match for Murray at Wheel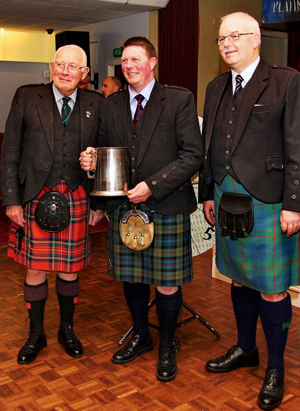 Danderhall, Scotland – February 13, 2016 – Douglas Murray of Cardenden, Scotland, was the winner of the annual Pipe-Majors' Wheel of Fortune competition, organized by the Grade 2 City of Edinburgh Pipe Band, winning the MSR and the Wheel of Fortune medley contest where competitors spin the golden chanter, with the final selection made by an audience member as pipers take the floor.
Callum Beaumont of Linlithgow, Scotland, finished second overall, and Alasdair Henderson from Dunoon, Scotland, was third.
Murray played "Highland Wedding," "Susan MacLeod" and "John Morrison, Assynt House" for his MSR, which was judged by Ian McLellan, and his audience-adjudicated medley featured the Irish air "Eileen Mary Connolly," two Irish reels – "Sleepy Maggie" and "The Humours of Tulla" – the hornpipe "Crossing the Minch" by Donald McLeod, his own composition "Mojo's Jig," and a show-stopping rendition of Gordon Walker's "The Fiddlers' Rally."
Last year's overall winner, Brian Lamond of Inverkeithing, Scotland, won the Joke event, in which each competitor has to tell a joke or story to the audience, with a gag that involved a man who had to make a donkey laugh and cry.
Also competing but not in the prizes were Jonathan Greenlees, Glasgow; Finlay Johnston, Glasgow; and Angus Nicholson. Chris Armstrong withdrew due to illness.
A bidder from Canada won the original two-part tune of any genre composed by Allan MacDonald, and a donated set of pipes from William Sinclair & Son (Bagpipe Makers) were auctioned for £950.