Henderson elected to Scots Trad Music Hall of Fame
Murray Henderson, the only piper in history to win the Clasp at the Northern Meeting at least once in four separate decades and a native of New Zealand, has been elected to the Scots Trad Music Hall of Fame for Services to Performance.
Along with the likes of famed accordionist Iain MacPhail, legendary Celtic folk group the Battlefield Band and the late renowned singer Andy M. Stewart, Henderson goes into the Hall of Fame at a gala dinner on November 11th at Caird Hall in Dundee.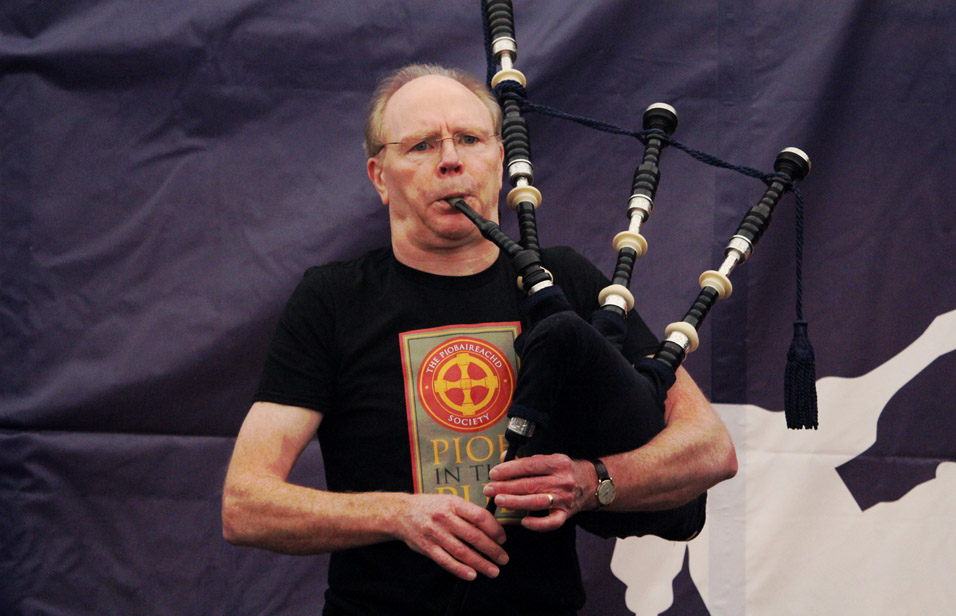 From Timaru, New Zealand, Murray Henderson immigrated to Scotland at the age of 20 in 1973, and in 1974 his piping career was off and running after winning the Highland Society of London's Gold Medal at Inverness, and the next year picked off the first of his six Clasps. He won just about everything there is in competitive solo piping, including four Glenfiddich Championships before retiring only a few years ago.
Henderson is a tireless teacher and is a professional reed and bagpipe maker, and the designer of the popular Strathmore pipe chanter. He lives in Kirriemuir, Scotland. Recently he has collaborated with fellow solo piper John Mulhearn on The Big Music Society, working to orchestrate arrangements of piobaireachd with other instruments.
Other Highland pipers in the Scots Trad Music Hall of Fame are John D. Burgess, Gordon Duncan, Ian Duncan,  Rona Lightfoot, Iain MacDonald (Glenuig), Donald MacLeod, Roddy MacLeod, Donald MacPherson, G.S. McLenann and Iain MacLellan.
The Scots Trad Music Hall of Fame is run by the Hands Up For Trad organization, which also runs the Scots Trad Music Awards on December 3rd, also at Caird Hall. Sixteen categories, including Pipe Band of the Year, will be announced after a period of public voting that starts in October. Shotts & Dykehead Caledonia was voted Pipe Band of the Year in last year's awards.