Henderson withdraws from Capt. John Memorial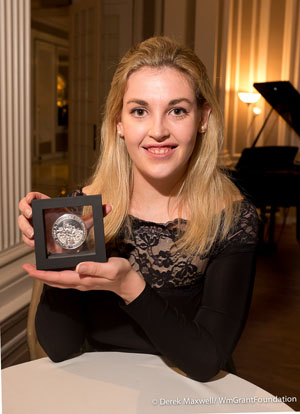 Incumbent winner and 2010 Argyllshire Gathering Gold Medallist Faye Henderson has decided to withdraw from the Captain John A. MacLellan MBE Dinner-Recital due to an ongoing injury.
"It is with great regret that I am having to withdraw from the Captain John A. MacLellan MBE Dinner and Recital, due to an ongoing arm injury," Henderson said. "I am obviously very disappointed at not being able to take part. I would like to thank Colin MacLellan and the Captain John A. MacLellan Memorial Trust for their understanding, and wish them every success for a great celebration of his music."
+ Faye Henderson wins MacLellan Memorial Medal
+ Faye Henderson wins Oban Gold Medal – first ever female winner
There were no specifics about Henderson's condition, and, at publication time, she had not yet responded as to whether she would also have to withdraw from the Argyllshire Gathering at Oban, Scotland, and the Northern Meeting at Inverness, Scotland, held the week before and after the Captain John Memorial, respectively.
The eighth annual competition-recital on the evening of August 25th at the Waldorf Astoria Caledonian Hotel in Edinburgh will feature previously announced pipers Cameron Drummond, Edinburgh; Glenn Brown, Glasgow; Jack Lee, Surrey, British Columbia; and Iain Speirs, Edinburgh. According to organizers, only a few tickets remain for the elegant event that has steadily increased in stature since it started in 2011, and are available by emailing Tina Anderson.
"Both Faye and her playing would be greatly missed this year – however everybody understands that these types of injuries must be treated with the greatest of care," Colin MacLellan said. "Anyone who was lucky enough to hear Faye's winning tune last year, "The Salute to the Succession," will look forward to hearing Faye again at future John MacLellan Dinner-Recitals. Regardless, the Trust is delighted to honour Faye and her partner Craig as special audience guests this year and we wish her the very best in her recovery."
The event is supported by the William Grant Foundation, which sponsors numerous piping competitions, including the Senior Piobaireachd at Oban, the Masters' Competition, and the Silver Chanter, in addition to the annual Glenfiddich Invitational Championship.
Interestingly, the first winner of the Capt. John A. MacLellan Memorial Medal was Faye Henderson's father, Murray Henderson.
+ Henderson wins first John MacLellan Medal (scores included)