Hudson, McClamrock in form at international Braemar
Braemar, Scotland – September 3, 2016 – The prize lists at the Royal Braemar Highland Gathering were heavy with non-UK competitors in an even more pronounced way than usual. Pittsburgh's Nick Hudson and Ben McClamrock of Washington, DC, pulled in the firsts, Hudson winning the Braemar Gold Medal. Hudson was fresh off of a successful Northern Meeting where he won the B-Grade MSR, and McCalmrock took both light music events and was awarded the Braemar Silver Medal for Best Overseas Piper, and won the the overall award for most aggregate points in the senior piping.
The competition had at least one teacher judging at least one pupil, which goes against the policies of both the Competing Pipers Association and the Scottish Solo Piping Judges Association.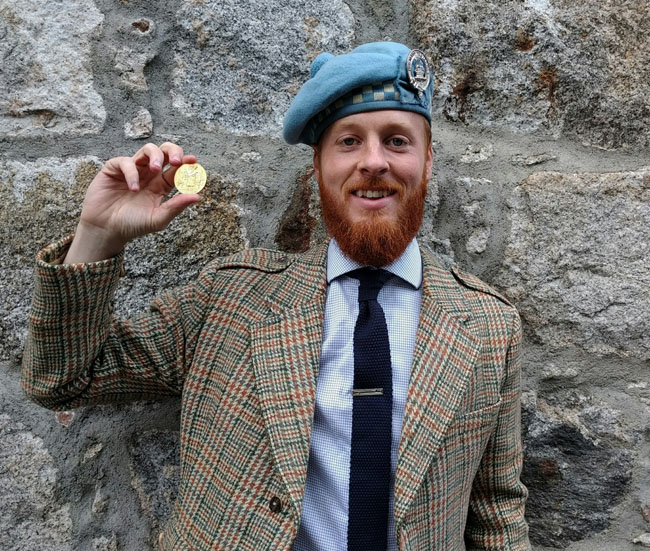 Piobaireachd
1st Nick Hudson
2nd Jori Chisholm, Seattle
3rd Anna Kummerlow, Germany
4th Darach Urquhart, Glasgow
5th Ed McIlwaine, Vancouver
6th Derek Midgley, New Jersey
Judges: Malcolm McRae, Robert Wallace, Duncan Watson
March
1st Ben McClamrock, Washington, DC
2nd Jori Chisholm
3rd Andrew Lee, Surrey British Columbia
4th Nick Hudson
5th Donald MacPhee, Alexandria, Scotland
6th Graham Mulholland, Fife, Scotland
Judges: Jimmy Banks, Ian Duncan, Stuart Samson
Strathspey & Reel
1st Ben McClamrock
2nd Andrew Carlisle, Pittsburgh
3rd James P. Troy, Victoria, British Columbia
4th Dan Lydon, Maryland
5th Calum Iain Brown, Aboyne, Scotland
6th Andrew Donlon, Washington, DC
Judges: Jimmy Banks, Ian Duncan, Stuart Samson