Cheape, Dean, Stark awarded New Year's Honours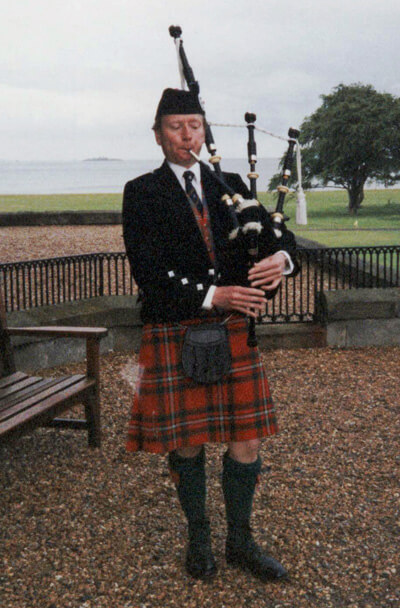 The Edinburgh-based piper and piping scholar Hugh Cheape has been made a Member of the Order of the British Empire (MBE) in the 2018 New Year's Honours for a lifetime of "services to Scottish cultural education and traditional music."
And receiving the British Empire Medal (BEM) were Hamish Dean for his work as pipe-major of the Huntly & District Pipe Band and services to piping and the community in Aberdeenshire, and David Stark of Hamilton, Scotland, for voluntary service to piping in South Lanarkshire.
Cheape's contributions to the art are many. He is most known for his scholarly works on the Highland pipes, including his 2008 work, Bagpipes – a National Collection of a National Instrument.
+ Hugh Cheape clarifies what's really in his forthcoming book
Cheape is probably the world's foremost expert on the Highland bagpipe as an instrument. For almost four decades worked with the National Museums of Scotland to create a national collection on the bagpipe. Now retired as a lecturer with Scotland's University of the Highlands & Islands, he has committed most of his life to the study and preservation of Scottish musical history. Despite the Highland pipe being Scotland's national instrument and, along with tartan, probably the most representative symbol of the country itself, no national collection existed before Hugh Cheape built it.
Many pipers and drummers will have enjoyed his work when visiting the museum at the National Piping Centre in Glasgow, which Cheape curates.
Other recent piping and drumming recipients of the MBE include Jim Kilpatrick, Jeannie Campbell, Richard Parkes, P-M Michael Gray and Roddy MacLeod.
+ Jeannie Campbell receives MBE for Services to Piping
+ Roddy MacLeod, P-M Michael Gray Receive MBEs
The Member of the Order of the British Empire (MBE) is is given to those making distinguished or notable contributions in their own specific areas of activity on a national level, with particular achievement or service within a community. The British Empire Medal (BEM) was revived in 2012 after being dropped in 1993 and is given annually for lifetime service by community volunteers.
On behalf of the piping and drumming world, we congratulate Hugh Cheape, Hamish Dean and David Stark for being formally recognized for their contributions to piping.