Iain McLeod, 1931-2017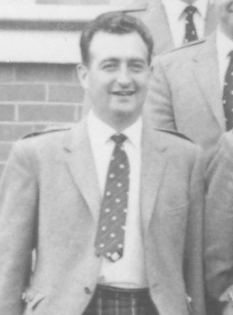 Iain McLeod, one of the great pipe-majors in history, died on March 30th after an illness.
He was native of Edinburgh, and joined the Edinburgh City Police Pipe Band in the early 1950s under Pipe-Major Donald Shaw-Ramsay, when the band first rose to competition prominence. McLeod became pipe-major after a short leadership stint by John D. Burgess, and Burgess himself admitted in his pipes|drums Interview that McLeod was always the right person to take over from Ramsay. As pipe-major of the legendary Edinburgh City Police Pipe Band, McLeod won five World Pipe Band Championships, in 1963, 1964, 1971, 1972 and 1975, and led what was really the first and perhaps only world-famous competition-focused band whose renown extended beyond the piping and drumming community.
The Edinburgh Police with McLeod and Lead-Drummer Bob Montgomery would travel the world on frequent trips to places like Tokyo, Moscow, Guam, San Diego and many countries in between.
McLeod assembled a pipe section of committed and often world-class players, all of whom were members of the Edinburgh City Police force as serving constables. His pipe-sergeant, John Perceval, was himself a legend in the pipe band world, and pipers such as Harry McNulty, Colin Forbes, George Lumsden, and Duncan Smith each would go on to be pipe-major of the band.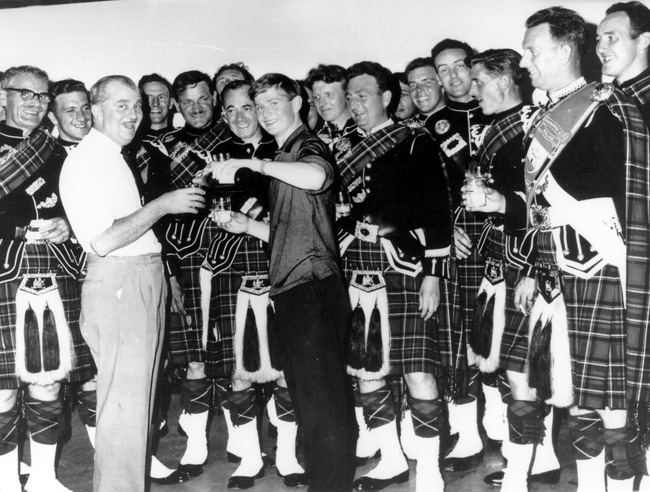 As a solo piper, Iain McLeod was top-tier in light music, winning, among many other prizes the Silver Star MSR for former winners at the Northern Meeting in 1969 and 1973.
The Edinburgh Police were recording stars, too, putting out no fewer than five full-length albums under McLeod's direction: March of the Pipers (1962), The Edinburgh City Police Pipe Band (1965), Pipers Parade (1967), Champions of the World (1971) and Capital Parade (1975). Capital Parade featured a solo march, strathspey & reel performance by McLeod when he was still in his competing prime. He also recorded Dancer's Delight, a popular solo album for Highland dancing.
When he retired as a serving police officer in 1976, McLeod also retired as pipe-major, giving way to Pipe-Sergeant Harry McNulty. McLeod would go on to lead the Grade 1 Babcock-Renfrew Pipe Band, while also maintaining a successful bagpipe making and supplies business, Gillanders & McLeod. Babcock-Renfrew would enjoy the occasional prize in RSPBA majors, but never came close to the success McLeod experienced with the Edinburgh Police.
He was a frequent adjudicator of solo competitions, but never active with pipe bands judging. Many believed that he refused to accept having to take an exam to gain his RSPBA credentials, but he maintained that this was not true, saying that he went through the process but simply preferred not to judge.
In the 1990s he was a leader of the Association of Piping Adjudicators, which resulted in a split with solo pipers supporting events in the UK that adhered to the quasi-union of judges. The famous "boycott year" of 1995 resulted in relatively few competing at the major events, afraid of longer-term repercussions. The APA eventually petered out, and McLeod thereafter was an infrequent judge.
pipes|drums interviewed Iain McLeod twice, first in 1986 and again about 10 years later in a more extensive piece. We plan to republish these interviews soon.
"Iain was a fantastic piper and one of the greatest inspirations and influences to me and indeed the modern pipe band era," said Robert Mathieson, equally renowned for his success. "In his iconic Edinburgh Police band he was always at the forefront of his craft in terms of sound, musical repertoire and indeed trend and fashion. His transition from the competing MSR to the band medley era was seamless. Among many of his first prizes he was also had the first very successful all-star pipe corps to predominantly play silver mounted pipes. He was also the first Grade 1 band to cast off the # 1 tunics and plaids in favour of the Argyll jackets to compete at the first CNE in Toronto. If there is a pipe band in the afterlife he will not be playing in it until he has redressed them, rewritten the rule book and changed a few tunes. Raise a dram to the passing of a great musician and straight talker or even better go and listen to some of his recorded music. Rest in peace."
Only last year, Iain McLeod personally selected his favourite tracks from Edinburgh City Police Pipe Band recordings, which were compiled in a Greentrax Recordings CD, well-reviewed by Robert Mathieson.
Iain McLeod was as legendary for his frank and forthright opinions as he was for his piping prowess. His strong thoughts, especially on conflict of interest in judging and fair treatment of competitors and adjudicators, could make him a polarizing figure. He maintained his outspoken nature until his final years, particularly upset when the Edinburgh Police / Lothian & Borders Police Pipe Band dissolved following amalgamation of the Scottish Police Forces in 2012.
The family will hold a private ceremony, but plan to organize a celebration of Iain McLeod's life in the future.
On behalf of the piping and drumming world, we extend our sympathies to Iain McLeod's family and friends at this sad time.