Immaculate and heavenly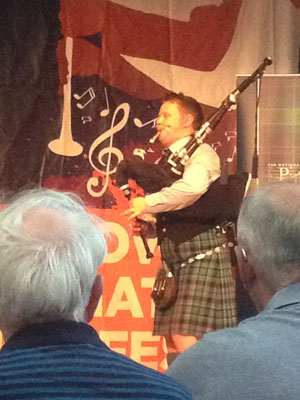 Callum Beaumont
Lunchtime Recital
National Piping Centre
August 8, 2017
Being the youngest-ever winner of the Clasp, a double Gold Medallist and winner of several World Pipe Band Championships, Callum Beaumont is no stranger to performing, and his ability to deliver beautiful music under pressure was on full display in Tuesday's recital.
The auditorium of the National Piping Centre was close to capacity, and the only downside was that the heat generated by people and production lights made for a pretty warm event.
While it was very hot, there was no evidence of that in Beaumont's bagpipe sound. The pipe was immaculate at the beginning and moved ever so slightly to "heavenly" at the end.
The recital kicked off with some 6/8s, and then picked up pace with a Donald MacLeod-esque rendition of "The Cameron Quickstep" followed by Fred Morrison's jig "Skye," Bob Worrall's "St. Ninian's Parish Ceilidh" and "Donella Beaton." Great playing of varied and attractive melodies.
A double MSR followed, displaying musicality and control in abundance, all with great forward motion. The highlight of the recital for me was a performance of Donald MacLeod's piobaireachd "Salute to Queen Elizabeth II". Beaumont made the most of the musical opportunities in this tune, and his bagpipe was equal partner in delivering the beauty of the tune. It was a very satisfying and complete musical experience.
This was followed by a set of hornpipes, a lovely Breton set that resolved into ceilidh versions of "The Little Cascade" and "Alick C. MacGregor," and then a final set of Gaelic airs and reels.
Altogether, Beaumont put on a masterful display of musical ability. His excellent bagpipe sound was a constant foundation for the music, delivered so tastefully. It was an hour that no one would regret spending.