Jack Lee: 2017 Glenfiddich Champion
Blair Atholl, Scotland – October 28, 2017 – Jack Lee of Surrey, British Columbia, was awarded the 2017 Glenfiddich Solo Piping Championship, the biggest prize in Highland piping withe a first in the Piobaireachd and  second in the MSR competitions, held again in the Great Hall of Blair Castle situated in the beautiful Perthshire countryside. It was Lee's second overall Glenfiddich title, and first since winning it in 2003. He was the only one of 10 competitors to feature in both prize lists. By winning, Lee gains an invitation to the 2018 competition.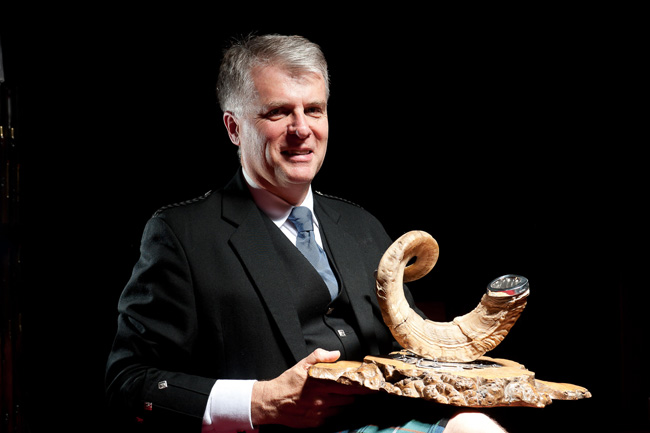 It was the forty-fourth running of the event, started in 1974, which showcases the 10 pipers who qualified by merit of results in designated top-tier contests over the previous 12 months, including the 2016 Glenfiddich. Both events were streamed live, with an audience topping out at about 850.
The Balvenie Medal, for services to piping, was awarded to Sandy Jones of Tennessee, and was presented by Colin MacLellan.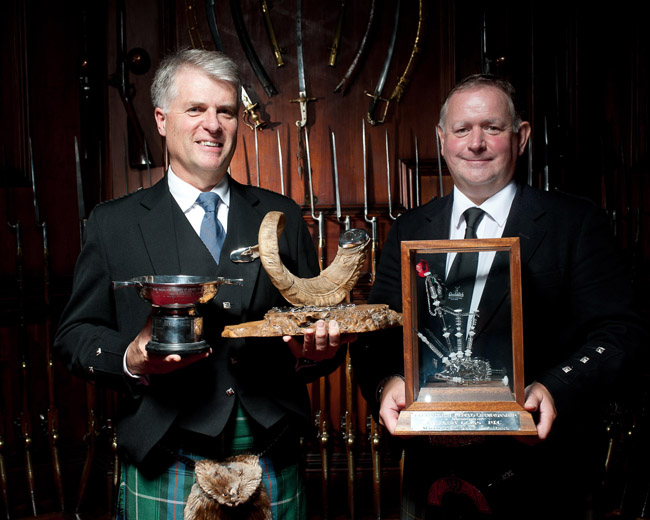 The competition is put on by the William Grant Foundation, which sponsors numerous major piping contests in Scotland, and Liz Maxwell was presented with an appreciation after 40 successive years organization the Glenfiddich Championship. Bill Gordon of the Grant family made a statement before the prizes were announced that the foundation will continue to sponsor the event for "a long time into the future."
Piobaireachd
1st Jack Lee, "Lament for the Earl of Antrim"
2nd Angus MacColl, Benderloch, Scotland, "The End of the Great Bridge"
3rd Iain Speirs, Edinburgh, "Scarce of Fishing"
4th Glenn Brown, Glasgow, "Lament for the Laird of Anapool"
5th Callum Beaumont, Linlithgow, Scotland, "Lament for MacLeod of Colbeck"
Judges: Iain MacFadyen, Ronnie McShannon, Jack Taylor
March, Strathspey & Reel (tunes repeated)
1st Roddy  MacLeod, Glasgow, "The Clan MacColl," "Piper's Bonnet," "The Rejected Suitor"
2nd Jack Lee, "The Marchioness of Tullibardine," "Arniston Castle," "Drum-Major John Seton"
3rd Alasdair Henderson, Glasgow, "The Duke of Roxburgh's Farewell to the Blackmount Forest," "The Caledonian Society of London," "Mrs. MacPherson of Inveran"
4th Craig Sutherland, Crieff, Scotland, "MacLean of Pennycross," "The Islay Ball," "John Morrison, Assynt House"
5th Cameron Drummond, Edinburgh, "The Braes of Castle Grant," "Inveraray Castle," "John MacKechnie"
Judges: Ian Duncan, Willie Morrison, Bob Worrall
Also competing but not in the prizes was Ian K. MacDonald of Whitby, Ontario.