Kellett, Ferguson, Parry on top at Shotts Juniors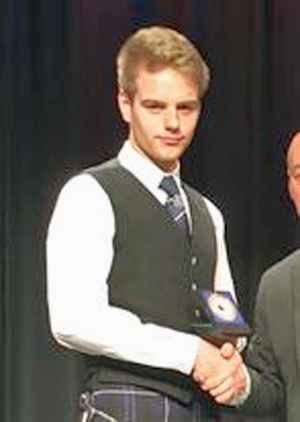 Shotts, Scotland – December 3, 2016 – Connor Kellett and Andrew Ferguson were the aggregate winners of the 18 & Under and 15 & Under solo piping at the third annual Shotts & Dykehead Junior Piping & Drumming Championship held at Calderhead High School. Ferguson won all three of his events.
The competition is put on by the Grade 1 Shotts & Dykehead Caledonia and the North Lanarkshire Council. Siblings Gavin and Drew Mackay travelled from Kitchener, Ontario, to compete at the event.
pipes|drums Magazine contributed the trophies for both aggregate events when the contest started in 2014.
+ pipes|drums sponsors Shotts Junior trophies
All events were judged by prominent pipers and drummers who volunteered their services.
Solo Piping
18 & Under
Piobaireachd
1st Connor Kellett
2nd Douglas Mair
3rd Callum Davidson
4th Lewis Russell
5th Owen Muir
6th Gavin Mackay
Judges: Callum Beaumont, Cameron Drummond
March
1st Calum Craib
2nd Harry McLachlan
3rd Jordan Ednie
4th Lewis Russell
5th Connor Kellett
6th Robert Dick
Judges: Glenn Brown, Ryan Canning
Strathspey & Reel
1st Harry McLachlan
2nd Lewis Russell
3rd Connor Kellett
4th Calum Craib
5th Callum Davidson
6th Finlay Frame
Judges: Glenn Brown, Ryan Canning
15 & Under
Piobaireachd
1st Andrew Ferguson
2nd Angus MacPhee
3rd Luke Kennedy
4th Ruairidh Brown
5th Jack Smith
6th Drew Mackay
Judges: Chris Armstrong, Finlay Johnston
Ground of Piobaireachd
1st Amy McIntyre
2nd Cameron May
3rd Cameron McEwen
4th Craig Peters
5th Thomas Young
6th Kirsty McEwen
Judges: Glenn Brown, Steven Leask
March
1st Andrew Ferguson
2nd Ross Conner
3rd Angus MacPhee
4th Katie Macdonald
5th Ruairidh Brown
6th Luke Kennedy
Judges: Jonathan Greenlees, Peter Hunt
Strathspey & Reel
1st Andrew Ferguson
2nd Angus MacPhee
3rd Ruairidh Brown
4th Ross Conner
5th Katie Macdonald
6th Ross Strain
Judges: Jonathan Greenlees, Peter Hunt
13 & Under
March
1st Paul Christie
2nd Cameron May
3rd Drew Mackay
4th Kyle Johnston
5th Max Grieve
6th Ruaridh Blyth
Judges: Graham Drummond, Gordon McCready
Strathspey & Reel
1st Cameron May
2nd Max Grieve
3rd Drew Mackay
4th Kyle Johnston
5th Andrew Knowles
6th Ruairidh Blyth
Judges: Graham Drummond, Gordon McCready
Chanter 18 & Under
March
1st Fraser Smith
2nd Fraser Hamilton
3rd Gregor Grierson
4th Lloyd Ferguson
5th Brodie Cunningham
6th Harrison Bishop
Judge: Ryan Canning
Slow Air
1st Gregor Grierson
2nd Fraser Smith
3rd Finn Gilmour
4th Fraser Hamilton
5th Brodie Cunningham
6th Harrison Bishop
Judge: Ryan Canning
Solo Drumming
Snare
18 & Under
March, Strathspey & Reel
1st Georgia Parry
2nd Ryan Green
Judges: Jim Baxter, Gordon Craig
15 & Under
March, Strathspey & Reel
1st Kerr McQuillan
2nd Rachel Thom
3rd Chloe Taylor
4th James Strachan
5th Fraser Macneill
6th Guy Kellas
Judges: Russell Esler, Andrew Lawson
March
1st Callum Nelson
2nd Archie Jaffrey-Smith
3rd Caitlyn Malloy
4th Mark Bathgate
5th Naimh McCreadie
6th Mark Rodger
Judges: Jim Baxter, Gordon Craig
Snare Stick & Pad
15 & Under
March
1st Grace Feeney
2nd MacKenzie Forrest
3rd Ewan Jeffrey
4th Andrew Black
Judge: Andrew Lawson
Tenor Drumming
18 & Under
March, Strathspey & Reel
1st Rhiannon McAleese
2nd Abby Johnston
3rd Kirsty McCron
Judge: Glenn Higgins
15 & Under
March
1st Fiona McCall
2nd Rose Winchester
3rd Molly Jeffrey
Judge: Glenn Higgins