Krogh flies high at MWPBA P-M Ian Swinton Open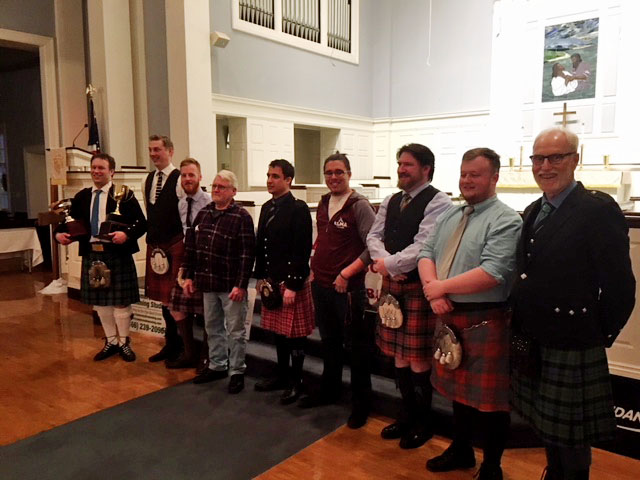 Park Ridge, Illinois – April 21, 2018 – The Midwest Pipe Band Association completed its annual Day of Piping, including the Pipe-Major Ian Swinton Open for Professional pipers and the Terry McHugh Memorial or amateurs. Events were held at the Park Ridge Community Church in Park Ridge, Illinois. To qualify for these finals, there were regional competitions over the winter in Kansas City; St. Paul; Alma Michigan; Louisville; and Milwaukee, and those in the top three received invitations. Professional prize money totalled US$3,500, with four places in each event of $400, $300, $200 and $100, and the aggregate prizes went to five of $500, $400, $300, $200 and $100. The competition is named for the long-time leader of the Midlothian Scottish Pipe Band of Chicago.
+ MWPBA honours American living legend with event
Professional
Overall
1st Teddy Krogh
2nd Andrew Carlisle
3rd Andrew Lewis
4th Nick Hudson
5th Palmer Shonk
Piobaireachd
1st Teddy Krogh, Anchorage, Alaska, "MacKenzie of Applecross's Salute"
2nd Palmer Shonk, Pittsburgh, "Lament for the Viscount of Dundee"
3rd Andrew Lewis, Falcon Heights, Minnesota, "The King's Taxes"
4th Andrew Carlisle, Pittsburgh, "Lament for Donald Duaghal Mackay"
Judges: Jack Lee, Jim Stack
MSR
1st Andrew Carlisle, "The Braes of Castle Grant," "Inveraray Castle," "Cecily Ross"
2nd Nick Hudson, Houston, "Arthur Bignold of Lochrosque," "The Piper's Bonnet," "Sandy Cameron"
3rd Andrew Lewis, "The Clan MacColl," "The Shepherd's Crook," "The Grey Bob"
4th Teddy Krogh, "Bonnie Anne," "John Roy Stewart," "The Rookery"
Judges: Jack Lee, Jim Stack
Also competing: Ken Liechti, Austin, Texas; Dave McNally, Independence, Missouri; Laureano Thomas-Sanchez, Alma, Michigan; and Jack Williamson, Topeka, Kansas.
Amateur
Grade 1
Joseph Horwath, Saginaw, Michigan
Grade 2
Mark Stuart, Waterford, Wisconsin
Grade 3
Elizabeth Curiskis, Minneapolis
Grade 4
Junior
Hugo MacKay, Redmond, Washington
Senior
Mark Waymack, Hinsdale, Illinois
Novice
Junior
Benjamin Tanke, Delafield, Wisconsin
Senior
Paul Napolitano, St. Charles, Illinois
Mike Kotch and Tristan Wilson judged all amateur events, except for Grade 1, which was adjudicated by Jack Lee and Jim Stack.