MWPBA honours American living legend with event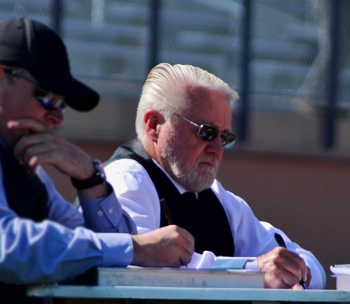 Ian Swinton, one of the most influential contributors to and leaders of piping and drumming in the United States, will be honoured with the newly-named "Pipe-Major Ian Swinton Open," an event for Professional-grade solo pipers on April 1st in Palatine, Illinois, near Swinton's hometown of Chicago.
It's actually the second year for the event, which is organized by the Midwest Pipe Band Association, held in sync with the final round of the Terry McHugh Memorial Amateur Piping Competition, an event that is the culmination of several months of qualifying contests around the Midwest. The Pipe-Major Ian Swinton Open, comprising Piobaireachd and MSR events, has a total prize money of US$3,500. Swinton will be at the event to present the prizes.
Originally from Uddingston, Scotland, Swinton was pipe-major of the Chicago-based Midlothian Scottish Pipe Band for 35 years, taking it to Grade 1 in 1985, with almost every piper in the band taught by him from the beginning. Since retiring from competition, Swinton has continued to teach and has been active on the MWPBA judging panel.
"Nobody has done more for piping and pipe bands in the Midwest United States than Pipe-Major Ian Swinton," said MWPBA President Jim Sim, who served as Swinton's leading-drummer for many years in Midlothian. "We thought who better to honour than Ian Swinton."
Jim Sim has been President of the MWPBA since 2010, and promised when he was elected that he planned changes for the organization.
+ Sim looks to bright future for MWPBA as new president
The Terry McHugh Memorial overall consists of five regional events for all amateur grades in Milwaukee; St. Paul; Kansas City, Missouri; Lexington, Kentucky; and Alma, Michigan. The top three from each event qualify to compete in the final, which, along with the Swinton Open, are the culminating indoor MWPBA contests.
Sim added that the association's outdoor season begins with the 50th anniversary Alma Highland Games, May 28-29, and the June 17-18 Chicago Highland Games will offer increased Grade 2 and Grade 3 prize money, with each grade again using a circle formation for the MSR and a concert formation for the Medley.
+ Concert formation popular at Chicago; back in the future
The MWPBA's outdoor schedule comprises seven events:
Alma – May 28-29
Milwaukee – June 4
Chicago – June 17-18
Paul – July 15
Waukesha, Wisconsin – September 3
Columbus, Indiana – September 10
St. Louis – September 24