Last Canadian Castle graduate retires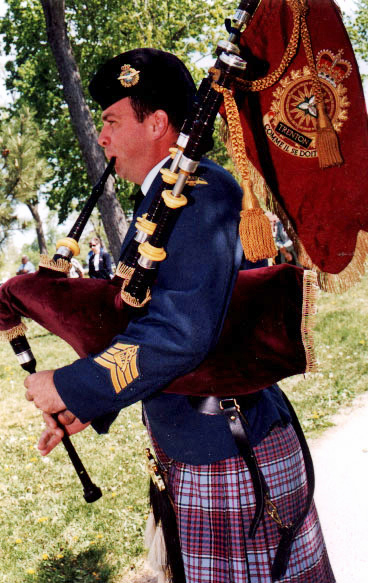 Captain John-Hugh MacDonald, the last graduate from Canada of the prestigious military Pipe-Major's Course at Edinburgh Castle, has retired after 33 years of exemplary service in the Canadian Forces.
MacDonald in 1989 went through the British Army School of Piping at Edinburgh Castle for advanced tuition under Major Gavin Stoddart BEM. At that point MacDonald was the only Canadian Forces Pipe-Major in a generation to have attended "The Castle," and, according to Captain Fraser Clark, spokesperson for the Canadian Forces, is the last.
Originally from Ottawa, John-Hugh MacDonald learned piping in Nova Scotia and then in the military with the late Pipe-Major Archie Cairns, serving eight years in the Air Command Pipes & Drums. After receiving his advanced tuition from the Castle, he led the 8 Wing Pipes & Drums in Trenton, Ontario, as the first professional Canadian Forces pipe-major to hold a degree in music, which he obtained from the University of Ottawa.
+ Major Archie Cairns, MMM, CD – 1928-2016
MacDonald was a member of the Grade 1 78th Fraser Highlanders Pipe Band for several years in the 2000s, and had some success as a professional-grade competitor. He was awarded the Queen's Golden Jubilee Medal for significant contributions to his community, and made a Member of the Order of Military Merit.
The Pipes-Major's Course at Edinburgh Castle was refined by the legendary Pipe-Major Willie Ross, Scots Guards (#5 on pipes|drums 20 Greatest Pipers in History list), who ran it for more than 40 years, eventually giving way to the equally legendary Captain John A. MacLellan (#19) in 1959.
+ The Greatest 20 Pipers in History
MacDonald retires as a captain, with more than 33 years of service as a piper, infantryman, pipe-major, logistics officer and public affairs officer.