Lewis wins first Swinton Open
Palatine, Illinois – April 1, 2017 – Andrew Lewis of St. Paul was the overall winner of the first annual Pipe-Major Ian Swinton Open Solo Piping Competition, held at the Palatine Presbyterian Church. Chandler Sievewright, New Berlin, Wisconsin, was the Grade 1 winner of the Terry McHugh Memorial Amateur Solo Piping Competitions.
The event was the Midwest Pipe Band Association's "Day of Piping," with the finals of the Terry McHugh Memorial Amateur after Regional qualifiers held at Kansas City; Alma, Michigan; St. Paul; Lexington, Kentucky; and Milwaukee, and the top three from each grade going through.
The professional piping event is named for the long-time pipe-major of the Midlothian Scottish Pipe Band, Ian Swinton. Total prize money was US$3,500 for the event.
+ MWPBA honours American living legend with event
+ Swinton retires after 34 years with Midlothian
Brian Donaldson and John Cairns judged everything.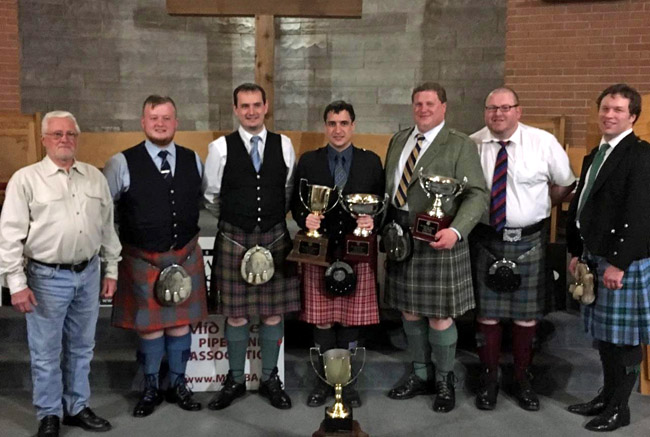 Pipe-Major Ian Swinton Open
Overall
1st Andrew Lewis, St. Paul
2nd Andrew Carlisle, Pittsburgh
3rd Matt Pantaleoni, St. Louis
4th Jack Williamson, Topeka, Kansas
5th Alastair Murray, Moon Township, Pennsylvania
Piobaireachd
1st Matt Pantaleoni, "The Battle of Auldearn" No. 2
2nd Andrew Lewis, "Lament for Donald Duaghal Mackay"
3rd Alastair Murray, "The Big Spree"
4th Andrew Carlisle, "Lament for the Earl of Antrim"
MSR
1st Andrew Lewis, "John MacFadyen of Melfort," "The Shepherd's Crook," "The Sheepwife"
2nd Andrew Carlisle, "The Braes of Castle Grant," "John Roy Stewart" (D. MacLeod setting), "The Rejected Suitor"
3rd Jack Williamson, "Brigadier General Ronald Cheape of Tiroran," "Kirstie MacCallman's Favourite," "Sandy Cameron"
4th Teddy Krogh, Anchorage, Alaska, "Inveran," "Cabar Feidh," "The Grey Bob"
Others competing but not in the prizes: Kenneth Liechti, Austin Dave Mason, Cincinnati; Avens Ridgeway, Batesville, Arkansas; Palmer Shonk, Pittsburgh; and Richard Winslow, Carnegie Pennsylvania.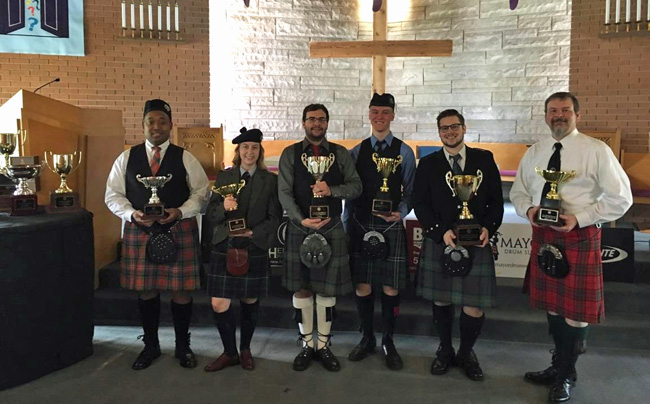 Terry McHugh Memorial
Grade 1
1st Chandler Sievewright, New Berlin, Wisconsin
2nd Tony Karcz, Arlington Heights, Illinois
3rd Laureano Thomas-Sanchez, Parma, Ohio
Grade 2
1st Joseph Fischer, Grafton, Wisconsin
2nd Michael Kazmierski-Dunn, Grand Rapids, Michigan
3rd Tak Tang, Minneapolis
Grade 3
1st Rhys O'Higgins, Madison, Wisconsin
2nd Sophia Richter, South Kingstown, Rhode Island
3rd Duncan Petersen-Jones, Okemos, Michigan
Grade 4
Senior
1st John Adair, Naperville, Illinois
2nd Bob Gaugh, Rockford, Illinois
3rd Mike McCollum, Deerton, Michigan
Junior
1st Sydney Howieson, St. Paul
2nd Thomas McCollum, Deerton, Michigan
3rd Mark MacPhee, Batesville, Arkansas
Senior Novice
1st Colin Kair-Gavin, Naperville, Illinois