Livingstone to be Guest of Honour at Maxville
On the prestigious 70th anniversary of the Glengarry Highland Games at Maxville, Ontario, piping and pipe band superstar Bill Livingstone will be the event's Guest of Honour.
Livingstone accepted the invitation from Glengarry Highland Games President Anne Stewart, whose personal prerogative it is each year to choose the recipient.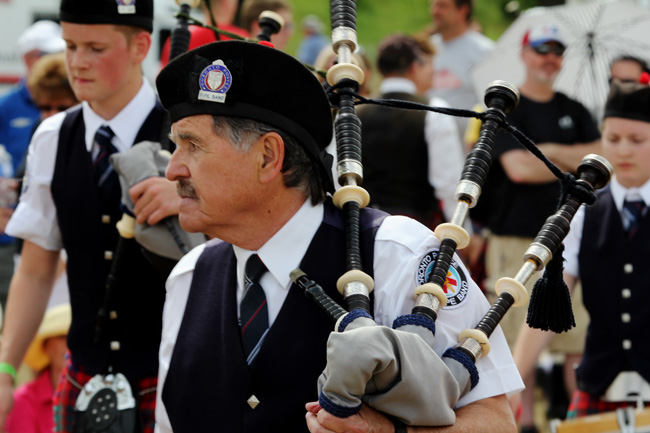 "It's a wonderful honour," Livingstone said. "The Glengarry Highland Games is the diamond in the crown of Canadian piping and drumming events. I have such fond memories from my many years of attending as a player and judge. I look forward to seeing everyone on the grass in August."
In addition to the event's milestone year, the accolade coincides with two other anniversaries: the 30th anniversary of Livingstone's 78th Fraser Highlanders Pipe Band winning the World Championship and the 150th anniversary of Canada becoming a nation.
Stewart's invitation read: "As president of the Glengarry Highland Games, I would like to extend an invitation to you and your family to attend the Glengarry Highland Games as our Guest of Honour on Saturday August 5, 2017. It would be my pleasure to share your accomplishments with our guests and to introduce you at our opening ceremonies."
She added: "Bill Livingstone is a living legend of piping and pipe bands, We are so proud to have him as our Guest of Honour for the 70th Glengarry Highland Games and look forward to celebrating with him on the 4th and 5th of August."
Livingstone's career in piping has been well documented by pipes|drums and others. His competitive solo career included winning the Clasp at Inverness twice, both Highland Society of London Gold Medals, and a litany or other top awards, including more than 15 times taking the aggregate Professional at Maxville, officially designated the North American Championship, which he won as pipe-major of the 78th Frasers 15 times. He remains the only piper ever to lead a Grade 1 band to a World Championship and win the Clasp at the Northern Meeting.
Livingstone will participate in the opening ceremonies parade on the Saturday, and officially declare the games open in front of the crowd, which typically numbers more than 20,000. Games organizers hope that that Livingstone can help with the presentation of the prizes in the evening. The games will feature him and his career in promotions for the games over the year.
At age 75 he continues to compete as a member of the Grade 1 Toronto Police Pipe Band.