Lorient MacCrimmon Trophy goes to Morrison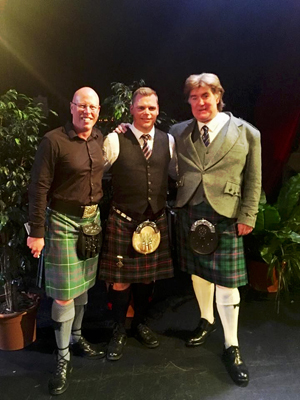 Lorient, Brittany – August 7, 2016 – Fred Morrison of Bishopton, Scotland, was the winner of the annual MacCrimmon Trophy at the Festival Interceltique de Lorient. The competition pits competitors who have qualified in various competitions around the world in sections for Breton, Irish and Scottish Highland pipe music.
Overall (11 competed)
1st Fred Morrison (5,6/1,1/1,1)
2nd Robert Watt, Northern Ireland (3,4/2,2/2,2)
3rd Stuart Easton, New Zealand (4,2/6,6/3,4)
4th Quentin Meunier, Brittany (1,3/8,9/8,5)
5th Cedric Lebozec, Brittany (2,1/3,7/11,11)
Judges: Steff Kermabon, Pierre Gallais (Breton); Brian MacMahon, Eamonn Curran (Irish); Bruce Hitchings, Andrew Frater (Scottish)
Also competing: Gwenael La Corronc (Brittany); Christopher McLeish (Australia); Callum Moffat (Scotland); William Rowe (New Zealand); David Shedden (Scotland); and Andrew Wilson (Ireland).