Mac-Cals salute Spalding in final performance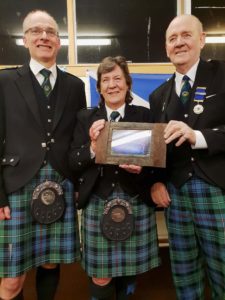 More than 150 relatives, enthusiasts and former players came out to a concert at Craigie High School in Dundee, Scotland, on February 1 for Pipe-Major Anne Spalding's final appearance with the MacKenzie Caledonian Novice Juvenile band, which Spalding has run and taught for nearly 15 years, now handing leadership over to 21-year-old Jamie Falconer.
+ Spalding hands over MacKenzie Novices to Falconer
Spalding was honoured at the event as she played the band of her piping pupils for the hour-long event, which included a solo performance from young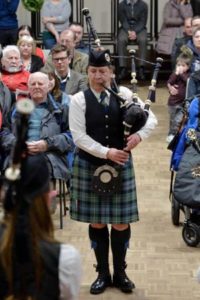 piper Lachlan Rennie, who played a band favourite, "The Night Visiting Song," accompanied by piper and singer Kayleigh Paley. Band members Andrew Mauritian and Fraser Robson also wowed the audience with their solo prowess during the concert, which was streamed via the band's social media page.
The concert included presentation of the band's annual awards and special recognition trophies, concluding with Pipe-Sergeant Robbie Coupar giving a moving vote of thanks to Spalding, and band President Jim Mills presenting her with flowers and a specially framed photo of the band from the organization's 2018 Centenary Concert in Dundee.
Spalding, who has taught hundreds of pipers over her career, was lost for words at the presentation, but managed to whisper to the compere to remind the audience there were collection buckets at the door if people wanted to donate to the band.
In a solo and band career of nearly 50 years, Spalding plans to continue to be a competing piper with the Grade 2 MacKenzie Caledonian, and work as a piping teacher both privately and with Scottish schools.
A pupil of the legendary Robert Urquhart Brown, Anne Spalding was a formidable competing solo piper, making history in 1976 as one of four female pipers to be the first to compete at the major gatherings at Oban and Inverness.