MacDonald Cuaich invitees, tunes, judge decided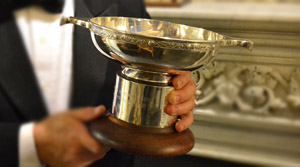 This year's Donald MacDonald Cuaich on June 2nd at the Clan Donald Centre, Sleat, Skye, will see five of the world's most successful pipers playing assigned settings of tunes from the Donald MacDonald piobaireachd manuscript, each receiving £750 for participating and one player getting £1,000 for "the favoured performance of the evening.
Callum Beaumont, Linlithgow, Scotland; Finlay Johnston, Glasgow; Stuart Liddell, Inveraray, Scotland; Ian K. MacDonald, Ontario; and Iain Speirs, Edinburgh will be competing for the prize.
Beaumont will play "Cumha Dubh Shomairle" ("Lament for Samuel" or "The Stewarts' White Banner").
Johnston gets "Cumha an Aona Mhic" ("Lament for the Only Son").
Liddell's playing "The Groat."
MacDonald has "Cill a Chriosda" ("Glengarry's March").
Speirs will play "Colla mo Run" ("The Pipers Warning").
In addition to the piping performances, a Gaelic singer will sing songs relevant to the tunes or the history pertaining to them, according to organizer Dr. Angus MacDonald.
Previously, the competition called for contestants to submit two settings of tunes from the MacDonald manuscript.
The contest will be judged by Colin MacLellan.