MacLellan gets part-time College piping director gig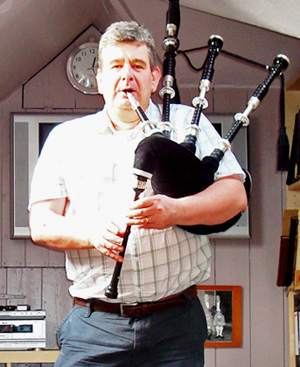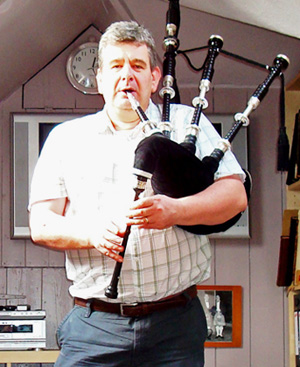 Following an extensive search, Colin MacLellan of Edinburgh has been appointed Director of Piping at the College of Piping in Glasgow, a part-time role that will see MacLellan work one day a week and undertake "ambassador" duties for the 62-year-old organization.five-part interview
MacLellan follows the interim leadership of long-time College teacher Dugald MacNeill, who took on the role following the abrupt departure of Robert Wallace, who held the position of principal in a freelance, non-contract capacity for 15 years. The new Director of Piping job will see MacLellan work to establish a new teaching program "and other activities to keep the college at the forefront of bagpipe teaching in the world."
Colin MacLellan has university degrees in education and political science, and for many years was involved with the teaching program at Maxville, Ontario, while he lived in Canada for some 23 years before returning to his native Edinburgh. He was an instructor at the National Piping Centre for several years, and has served on the board of directors of the Piping Live! Festival. MacLellan was president of the Competing Pipers Association in the 2000s. He is involved currently with the UK's Solo Piping Judges Association.
As a competing piper he won both Highland Society of London Gold Medals and the Silver Chanter, among many other top-tier UK prizes, and amassed virtually every prize available on the Ontario games circuit. He currently is a frequent adjudicator in the UK and further afield.
The College of Piping settled on MacLellan after interviewing several short-listed applicants, who allegedly included three other Scottish-based Highland Society of London Gold Medalists.
MacLellan will not be involved with the organization's monthly digest, the Piping Times.
The College of Piping is about a kilometre away from the National Piping Centre. The college was founded in 1944 by Seumas MacNeill and Thomas Pearston, and MacNeill was a driving motivator and visionary behind the idea of a new centre of piping, which eventually became the Piping Centre. He fell out with other organizers over their unwillingness to appoint the then septuagenarian as director. MacNeill then returned to the College of Piping, and the two organizations have co-existed since. The relationship between the two institutions was often acrimonious during the MacNeill and Wallace eras, but since 2014 has been by most accounts collegial and cooperative.
The College of Piping is run by a board of directors that includes well-known pipers such as Bruce Hitchings, Stuart Cassells and Dugald MacNeill's son, Colin.
"As well as appointing a Director of Piping, what came out of the board's recent review of vision and strategy was a wish to refresh the board so as to provide the appropriate direction for the College and support to its staff," said Colin MacNeill. "[I have] taken role of chairman of the board. After many years of service to the College Harry Teggin has stepped down from the board. Stuart Cassells as joined the board. Otherwise Dugald MacNeill, David Kerr and Bruce Hitchings continue on the board. We hope to further add to the board in the future."
pipes|drums published a five-part interview with Colin MacLellan in 2009.