McQuillan, Galbraith, Stewart win the trophies at LIVI Invitational Solo Drumming (and piping)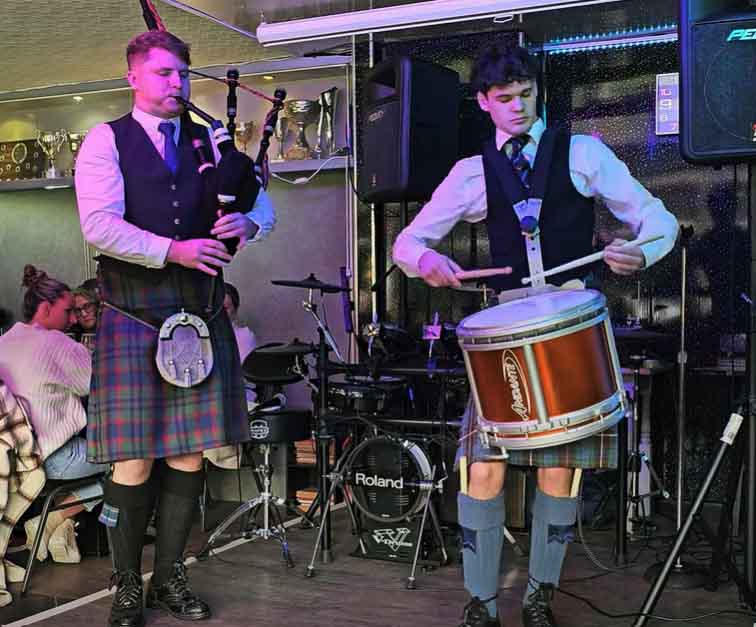 Livingston, Scotland – November 18, 2023 – The Deans Bowling Club was the venue for the charity LIVI Invitational Solo Drumming Competition, where Kerr McQuillan of Peoples Ford Boghall & Bathgate Caledonia won the MSR and Les Galbraith or Glasgow Skye Association took the Freestyle event.
There was also a trophy awarded to the best piping based on accompaniment, which Donald Stewart won.
The event was sold out, and ticket sales and donations from a 100-strong capacity audience went to support Enable Scotland, a charity for those with learning disabilities and other special needs.
MSR (Heather Mackay Memorial Salver)
1st Kerr Mcquillan
2nd Dàrren Brown, Police Scotland & Federation
3rd Cam Lawson, Inveraray & District
Judges: David Brown, Gordon Craig, Brian Martin
Freestyle (Livi Freestyle Solos Trophy)
1st Les Galbraith
2nd Darren Brown, Police Scotland & Federation
3rd Ryan King, free agent
Judge: audience vote
MSR Piping (Alex Samuel Memorial Shield)
2nd Bradley Parker
3rd Greig Canning
Judges: Ian Bowden, Gordon Stafford
Other drumming competitors (alphabetically by last name): Calum Burns, Peoples Ford Boghall & Bathgate Caledonia; Glenn Crieghton, Peoples Ford Boghall & Bathgate Caledonia; MacKenzie Forrest, Shotts & Dykehead Caledonia; Greg Fullerton, Johnstone; Simon Grant, City of Edinburgh; and Cameron Spence, Police Scotland Fife.
The LIVI Invitational has been held every year since 2014, apart from 2020, when the event was cancelled due to the pandemic.
Pipe band drumming legend Jim Kilpatrick won the first event, then called the Livi INNvitational because it was held at the Livingston Inn.