New NC contest honours late drummer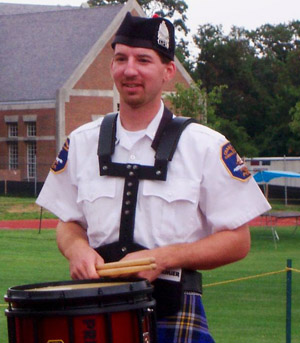 A new EUSPBA competition in Raleigh, North Carolina, on July 23 will honour the memory of a prominent easter United States snare drummer who died of cancer in 2010.
The Mike Murphy Memorial Indoor is a fully sanctioned contest that will make use of an indoor stage for Grade 3 and Grade 4 bands to perform MSR and Medley events in concert formation before judges Sandy Junes June Hanley (piping), Jon Quigg (ensemble) and Andrew Hoinacki (drumming), with Lisa Frazier mid-section comments not factored into the results.
The event is being put on by the very active Grade 3 Wake & District Public Safety Pipe Band of Raleigh, and will be live-streamed on Facebook and YouTube.
Prize money ranges from US$500 for first in Grade 3 to US$175 for third in Grade 5.
Michael Murphy played with the Citadel, Charleston Police and City of Washington pipe bands before his untimely death.