Niall Stewart wins 2018 Uist & Barra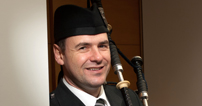 Glasgow – September 29, 2018 – The Uist & Barra Invitational Solo Piping Competition closed out the 2018 UK season at the National Piping Centre Otago Street, and Niall Stewart of Kyle of Lochalsh, Scotland, emerged athe overall champion
Piobaireachd
1st Iain Speirs, Edinburgh, "Nameless (Cherede Daireva)"
2nd Wiilie MCallum, Bearsden, Scotland
3rd Angus MaColl, Bearsden, Scotland
4th Jamie Forester, London
5th Stuart Liddell
MSR
1st Craig Sutherland, Crieff, Scotland
2nd Niall Stewart
3rd Stuart Liddell
4th Alasdair Henderson, Dubois, Scotland
5th Willie McCallum
Hornpipe & Jig
1st Niall Stewart
2nd Alasdair Henderson
3rd Iain Speirs
4th Willie McCallum
5th Gordon McCready, Renfrew, Scotland
Judges for all events were Alan MacDonald, Jack Taylor and Willie Morrison.
Also competing but not in the prizes were Glenn Brown, Glasgow; Ben Duncan, Edinburgh (light music only); Roddy MacLeod, Glasgow; and Sarah Muir, Campbeltown, Scotland (light music only).
Cameron Drummond, Edinburgh, withdrew due to the birth of his first child.