Norfolk Tattoo to salute the late Archie Cairns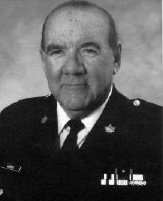 The Massed Pipes and Drums of the Virginia Tattoo on April 23rd in Norfolk, Virginia, will honour Major Archie Cairns, who died on April 1st, with a rendition of the late piper, military man and composer's famous 3/4 march, "Pipe-Major J.K. Cairns."
With a little more than two weeks before the event, the organizers of the tattoo decided to replace "Lochanside" with the Cairns composition.
"Given the countless number of piping and drumming students he has taught over his life-time, it can be said that thousands of people were touched by Archie's considerable genius in piping and music writ-large," organizer Fraser Clark wrote in a letter to the eight participating bands, which include the Grade 1 Inveraray & District, Police Scotland Fife, Toronto Police Pipe Band, and the Peel Regional Police Pipe Band.
Poignantly, Cairns's double-Gold Medal winning son, John, is pipe-major of the Peel Police.
"To honour Major Archie Cairns, the Massed Pipes and Drums of the Virginia Tattoo will perform his composition 'Pipe-Major J.K. Cairns' as our community's salute to mark Archie's contributions to the development of piping and drumming," Clark added.
Joining the Grade 1 bands at the Norfolk tattoo and competition will be, in Grade 2, Great Lakes (Michigan), MacMillan (Maryland), Midlothian Scottish (Chicago) and New York Metro.
"Pipe-Major J.K. Cairns" is published in the Scots Guards Collection Volume 2 as a 3/4 march, and in 6/4 time in Archie Cairns's Collection, Volume 1, and if readers would like to learn the tune, it is recommended that they purchase one of those collections for it and many others.