NYPBoS download album out in December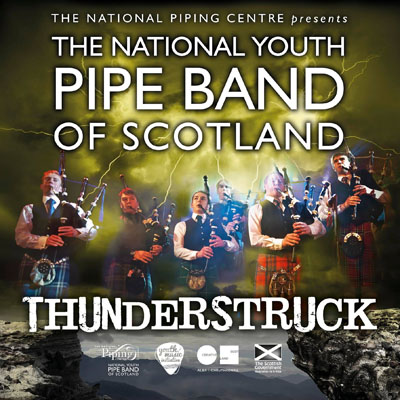 Coincidental with the passing of a co-writer of the title track, the National Youth Pipe Band of Scotland will release Thunderstruck, the organization's second full-length album, this time available only via digital download.
The recording is the first in six years, following the success of Illumination. The new album was recorded live at Perth Concert Hall when the band staged a show of the same name.
The album will be available as a download on iTunes, Google Play and Amazon starting December 8th, and is the first album to feature the full complement of both Senior and Development bands in the program, numbering approximately 100 pipers and drummers. The recording also features Scott Wood of Skerryvore), 2014 BBC Young Traditional Musician finalist Alistair Patterson, Fraser Stone of the Treacherous Orchestra, and 2015 BBC Young Traditional Musician finalist Seamus O'Baoighill.
The National Youth Pipe Band of Scotland has been directed by Alisdair McLaren since 2009. McLaren is a full-time instructor with the National Piping Centre in Glasgow, which runs the National Youth Pipe Band of Scotland. The group is a "cutting-edge performance pipe band" comprising pipers and drummers aged 10 to 25 from across Scotland's 32 councils.
+ McLaren appointed Director of National Youth Pipe Band program
AC/DC guitarist Malcolm Young, who co-wrote "Thunderstruck" with his brother, Angus, died on November 18th from causes brought on by dementia. Since the late Gordon Duncan first came up with a Highland pipe arrangement for the opening guitar sequence, "Thunderstruck" has become a common party piece for fast-fingered pipers.