Oban: Ian K: Gold; Liddell: Sr.; Hudson: Silver
Oban, Scotland – August 24, 2016 – The first day of solo piping competitions at the Argyllshire Gathering saw Stuart Liddell of Inveraray, Scotland, win the Senior Piobaireachd in the first result of the day. Later, Nick Hudson was announced the winner of the Silver Medal. And then Ian K. MacDonald won the Highland Society of London's Gold Medal after several times finishing second over the last 20 years. Four of the five in the Gold Medal prize list were North Americans.
The last prize of the day was the Silver Star MSR which was awarded to Alasdair Henderson. Of note, Bruce Gandy in the Silver Star played two of his own compositions, plus the event's namesake march. The second day will see the remaining light music contests go outside to the Argyllshire Gathering grounds at Mossfield Park.
Stay tuned to pipes|drums for further results from Oban as they become available.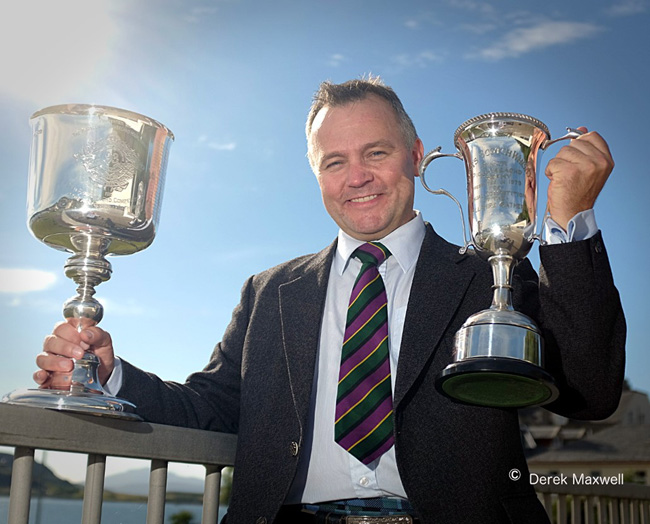 Senior Piobaireachd
1st Stuart Liddell, "A Son's Salute to His Parents"
2nd Bruce Gandy, Dartmouth, Nova Scotia, "The Earl of Ross's March"
3rd Finlay Johnston, Glasgow, "MacLeod of MacLeod's Lament"
4th Jack Lee, Surrey, British Columbia, "Lament for Hugh"
5th Angus MacColl, Benderloch, Scotland, "The Phantom Piper of Corrieyairick"
Judges: Bill Livingstone, Colin MacLellan, Willie Morrison
Gold Medal
1st Ian K. MacDonald, Whitby, Ontario, "Mary's Praise"
2nd Sean McKeown, Toronto, "Isabel MacKay"
3rd Cameron Drummond, Edinburgh, "The Stewarts' White Banner"
4th Derek Midgley, Tinton Falls, New Jersey, "The Battle of Waternish"
5th Andrea Boyd, Ottawa, "I Got a Kiss of the King's Hand"
Judges: Patricia Henderson, Stuart Samson, Jack Taylor
Silver Medal
1st Nick Hudson, Pittsburgh, "The MacDonalds Are Simple"
2nd Cameron Macdougall, Nigg, Scotland, "Flame of Wrath"
3rd Connor Sinclair, Crieff, Scotland, "Hector MacLean's Warning"
4th Darach Urquhart, Glasgow, "Lament for the Castle of Dunyveg"
5th Anna Kummerlow, Germany, "Flame of Wrath"
Judges: Ian Duncan, Malcolm McRae, Robert Wallace
MacGregor Memorial
1st Finlay Cameron
2nd Calum Watson, Lasswade, Scotland
3rd John Dew, Perth, Scotland
4th Angus MacPhee, Inverness, Scotland
Judges: Michael Grey, Bruce Hitchings, Rhona Lightfoot, Ronnie McShannon

Silver Star MSR
1st Alasdair Henderson, Dunoon, Scotland
2nd Willie MacCallum, Bearsden, Scotland
3rd Angus MacColl, Benderloch, Scotland
4th Chris Armstrong, Airth, Scotland
5th Bruce Gandy, "Argyllshire Gathering," "Winnie Roberts," "Captain Mossie"
Judges: Iain MacFadyen, John Wilson, Bob Worrall