Ontario 2023 season opens at Georgetown: 78th Frasers, Peel Police win the top grades (videos)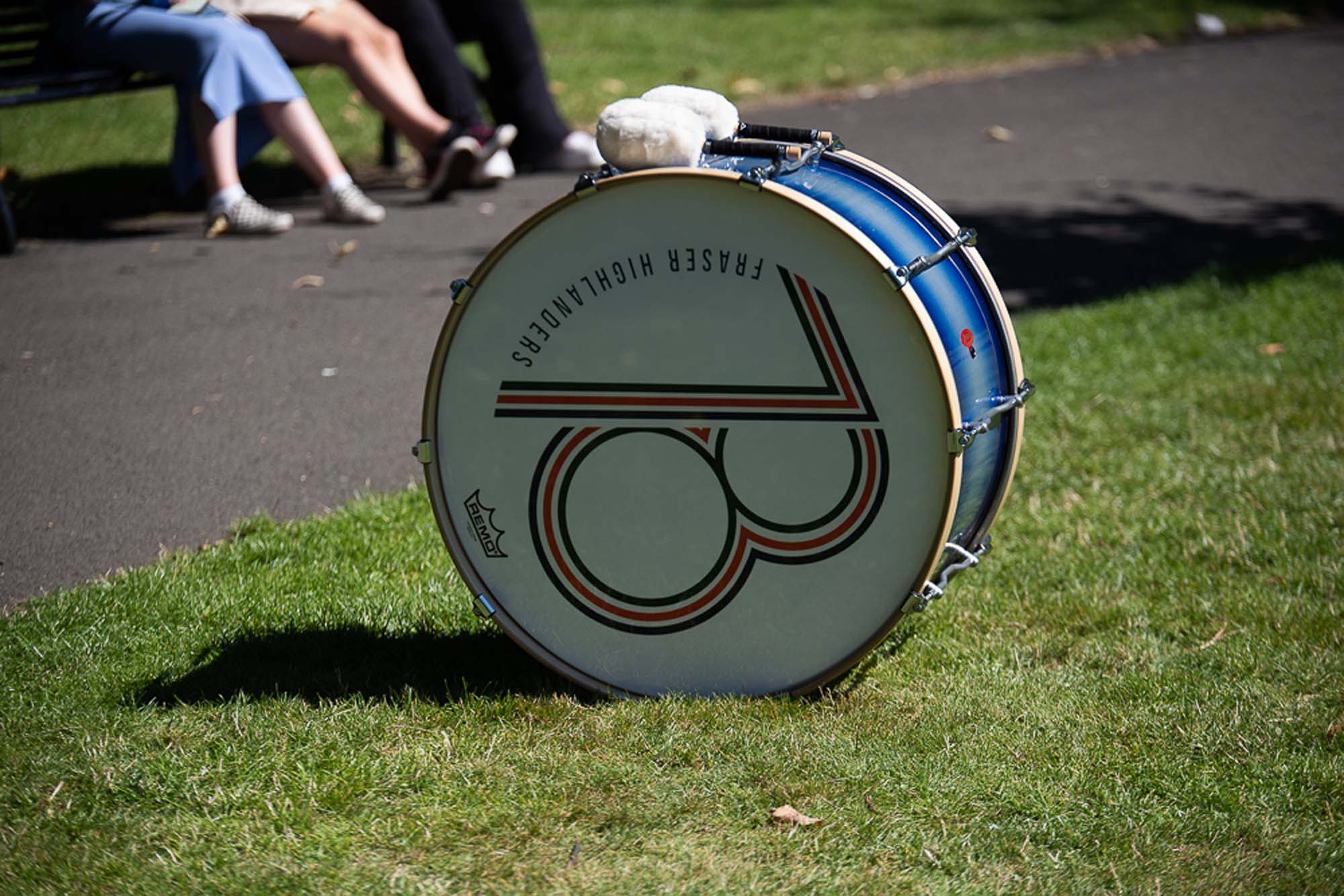 Georgetown, Ontario – June 10, 2023 – The first outdoor competition of the Ontario season was held, as usual, at the Georgetown Highland Games in sunny and comfortable weather. The 78th Fraser Highlanders won Grade 1, with only the Grade 2 Peel Regional Police challenging by "playing up" a grade. Under Pipers & Pipe Band Society of Ontario rules, only bands that were in the top three of the previous year's Champion Supreme aggregate rankings are permitted to challenge up.
The six-band Grade 2 competition was won by Peel, with three firsts and tying for best piping with St. Andrew's College Association, which finished second overall.
In the Professional solo evens, Ian K. MacDonald won the aggregate piping award and Blair Beaton took the snare drumming. The Amateur Piper of the Day was Henry Paluch, and the Amateur Snare Drummer award went to Cameron MacDonald.
At the first massed bands ceremony, the PPBSO presented a Lifetime Honourary Membership to Sharon Duthart, who has worked tirelessly as the organization's administrator for more than 20 years.
Though some smoke from wildfires in northern Ontario and Quebec still lingered, the weather was spectacular, with strong sunshine and a high around 27C.
Grade 1 (MSR, two competed)
1st 78th Fraser Highlanders (1,1,1,1)
2nd Peel Regional Police (Gr2) (2,2,2,2)
Drumming: 78th Fraser Highlanders
Mid-section: Peel Regional Police
Judges: Michael Grey, John Elliott (piping); Alan Savage (drumming); Ken Eller (Ken Eller)
Grade 2 (medley, six competed)
1st Peel Regional Police (2,1,1,1)
2nd St. Andrew's College Association (1,2,3,2)
3rd Ottawa Highlanders (5,3,2,4)
4th Toronto Police (3,4,4,5)
5th Ottawa Police Service (4,6,5,3)
6th Greater Midwest (6,5,6,6)
Drumming: Peel Regional Police
Mid-section: Peel Regional Police
Judges: Eddie Gorman, Andrew Duncan (piping); Mike Hunter (drumming); Bob Worrall (ensemble)
Grade 3 (medley, four competed)
1st Guelph
2nd Niagara Regional Police
3rd Durham Regional Police
Drumming: Guelph
Mid-section: Guelph
Judges: Michael Grey, John Elliott (piping); Alan Savage (drumming); Ken Eller (Ken Eller)
Grade 4 (medley, eight competed)
1st Peel Regional Police (Gr4)
2nd Guelph (Gr4)
3rd Hamilton Police
Drumming: Peel Regional Police
Mid-section: Peel Regional Police
Judges: Michael Grey, John Elliott (piping); Alan Savage (drumming); Ken Eller (Ken Eller)
Grade 5 (march medley, 10 competed)
1st Cabar Feidh
2nd Ryan Russell Memorial
3rd Durham Regional Police (Gr 5)
Drumming: Cabar Feidh
Mid-section: Cabar Feidh
Judges: Eddie Gorman, Andrew Duncan (piping); Mike Hunter (drumming); Bob Worrall (ensemble)

Solo Piping
Professional
Piobaireachd
A
1st Glenn Blown, Glasgow
2nd Jacob Dicker, Ottawa
3rd Ian K. MacDonald, Whitby, Ontario
4th Andrea Boyd, Ottawa
5th Tyler Bridge, Guelph, Ontario
Judge: Michael Grey
B
1st Tyler Johnson
2nd Liam Melville
3rd Tyler Harris
4th Daniel Carr
5th Alan Clark
Judge: Bob Worrall
2/4 March
1st Ian K. MacDonald
2nd Callum Harper
3rd Glenn Brown
4th Andrea Boyd
5th Jacob Dicker
Judge: Ken Eller
Strathspey & Reel
1st Ian K. MacDonald
2nd Daniel Carr
3rd Callum Harper
4th Andrea Boyd
5th Tyler Bridge
Judge: Hector MacDonald
Hornpipe & Jig
1st Ian K. MacDonald
2nd Daniel Carr
3rd Glenn Brown
4th Tyler Johnson
5th Callum Harper
Judge: Bill Livingstone
Senior Amateur Piobaireachd
1st Michael Malish
2nd Mike Fenton
3rd Kayleigh Johnstone
4th Henry Paluch
5th Alexander MacDonald
Judge: Andrew Berthoff
Solo Drumming
Snare
Professional
MSR
1st James Kirkwood
2nd Blair Beaton
3rd Kyle Wardell
Judge: Mike Hunter
Hornpipe & Jig
1st Blair Beaton
2nd Kyle Wardell
3rd James Kirkwood
Judge: Al Savage