PBASA elects 23-year-old president

The Pipe Band Association of South Africa has elected 23-year-old Tarryn Mocke as its president, the youngest person to take the office since the PBASA's founding in 1979.
Mocke was elected at the organization's annual general meeting on November 5th, and she replaces Thomas Fuller, who held the spot for three years.
A 10-year veteran of the South African piping and drumming community, Mocke is a member of the Grade 2 Benoni MacTalla Pipe Band, where she is lead-tenor and tutor. She has also been a member of Grade New Zealand bands Manawatu Scottish and Auckland & District. In 2017 she became a bass section judge with PBASA.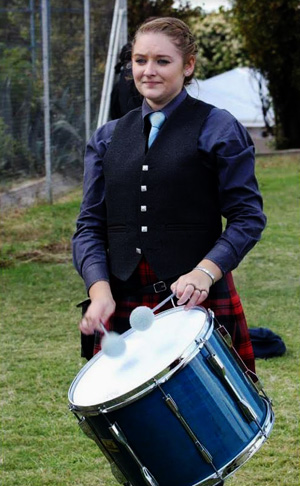 "I would like to thank our outgoing President Thomas Fuller for the role he has played in further enhancing the association over the past three years and for being such a strong role model," Mocke said. "I can only hope to fill the shoes he has left for me. I would also like to thank the entire committee for their support, and I hope that I too will make them all proud. It is an honour to be granted the opportunity to make a change and better our pipe band community, and I am grateful to be a part of a great team that is the PBASA. I look forward to making a positive contribution to the future of the PBASA and all pipe bands of South Africa."
PBASA also elected Rory Bellingan as vice-president and Chirene Campbell secretary.
The organization lists 30 bands as members, ranging from Grade 2 to Novice Juvenile.