pipes|drums launches new awareness campaign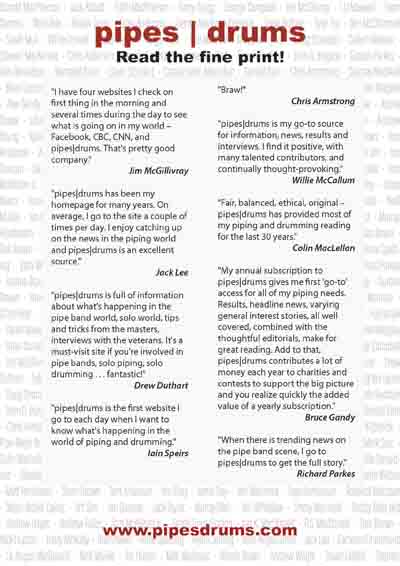 Last year, pipes|drums sponsored and made donations to numerous similarly non-profit piping and drumming causes, to the tune of several thousand dollars, and we're on track this year to do at least the same.
We're also launching a new awareness campaign, starting tomorrow at the annual Scottish Piping Society of London solo competitions in London, with a new ad in their program.
We thought we'd give readers a sneak peek of the campaign, which comprises testimonials from some of the biggest names in piping and drumming.
With this first spot we asked nine luminaries if they'd contribute a sentence or two – or even just one word – and we were gratified to get a positive response from all of them, including Chris Armstrong, Richard Parkes, Drew Duthart and Willie McCallum.
The campaign is on a "fine print" theme, and the fine print of the first piece comprises a background of names of contributors to the publication over its 30-year history.
"After three decades of publishing, it's still gratifying to know that so many people enjoy reading," said pipes|drums editor Andrew Berthoff. "We've always led with original content and we'll continue to lead, throwing sunlight on important issues, reporting the news and providing informative and fun features – striving always for fine print."
pipes|drums believes that quality journalism has value, and offers subscriptions costing less than a nickel a day for those who want access to the nearly 6,000 articles in its archive, while also providing news, results and many features for free.
"If you enjoy pipes|drums, we hope that you decide to subscribe. As Bruce Gandy says, a subscription also supports the big picture for added value."