Pipetunes.ca relaunches with easier navigation
Jim McGillivray's self-described "labour of love" online pipe music manuscript and history store, Pipetunes.ca, has relaunched with a new design and navigation experience intended to improve ease-of-use for visitors and customers.
McGillivray had been working on the site, which made its debut in 2005, over the past few years. The store offers hundreds of manuscripts of pipe music for purchase. Many of the pieces are difficult to find elsewhere, and most are copyright and used with the permission of their composers, who receive royalties from McGillivray in return.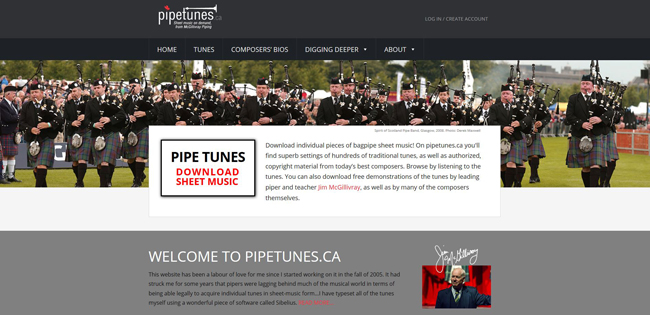 Users purchase credits that they can put towards the downloading of manuscripts in volume discounts. Credits are priced between 38 and 20 cents, and light music pieces range between four and 10 credits.
"The original site has become extremely popular since our 2007 launch," McGillivray commented. "But technology moves fast, and the code was becoming obsolete for today's servers. We needed a rebuild, and I took the opportunity to redesign as well. I used Fusion Studios in nearby Newmarket, Ontario, the same company that took on the original challenge.
"I've always gotten my best feedback from users, so I'm happy to receive emails from folk through the site should they find any glitches or have any suggestions. I hope people like the new look."
Most of the compositions are accompanied with a free music sound file of McGillivray playing the piece, intended to facilitate learning, as well as old no-longer-copyright 78rpm recordings of famous pipers.
The site also includes extensive biographies on composers that McGillivray has painstakingly compiled over the years.
Since the advent of digital publishing, print reproductions of pipe music have declined substantially, with only the most in-demand composers still producing physical books without incurring a financial loss.
Jim McGillivray is a frequent contributor to pipes|drums, and his series on composers and their tunes has been a popular feature with subscribers for many years.