Piping Live! recruiting for charity Big Band

Like every competition pipe band that wants and needs to get bigger, the Piping Live! Glasgow International Piping Festival is looking to create the largest group possible for this year's Piping Live! Big Band, a parade of pipers and drummers through Glasgow's city
The 2017 Big Band will be in honour of the work of the Glasgow Children's Hospital Charity, and will kick off the week-long festival on Monday, August 7th, at 11:30 am.
This year's charity, previously known as Yorkhill Hospital, will receive collections from the Big Band. Last year, the 100-strong band raised money for Asthma UK.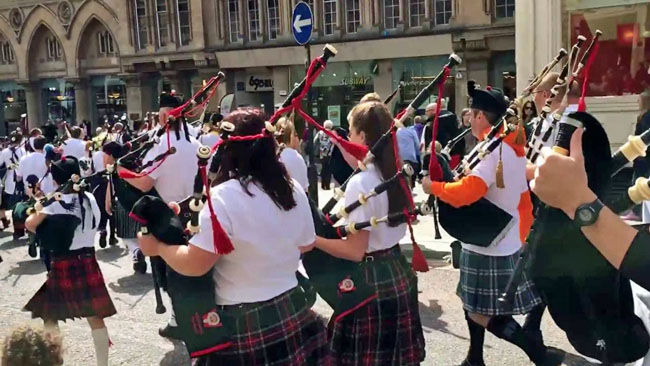 Pipers and drummers of any age and ability – practice chanter players, too – are invited to participate for a £10, which will go to the Glasgow Children's Hospital. Tunes played will be simple material in just about every piper and drummer's repertoire. The general public is also invited to participate and donate.
"Last year, the streets of Glasgow were filled with 100 bagpipers and drummers, piping up in aid of Asthma UK," Roddy MacLeod, Festival Director said. "The Big Band was a huge success and we raised over £500 for the charity. This year, we are going bigger and better, with 200 marching in aid of Glasgow Children's Hospital Charity and can't wait to see just as great a turn out for a very worthy cause. The work of everyone involved at the Glasgow Children's Hospital Charity is just incredible and we're honoured to be able to contribute to their ongoing work."
Piping Live! 2017 runs August 7-13 and takes over more than a dozen venues across the city of Glasgow, with more than 200 performances taking place over the week, In 2016, £2.3-million was determined to come into the local economy because of the festival.
+ Colossal 2017 Piping Live! and World's launched