Poaching and tampering
the promise of success, or trips, or outrageously good times to flatter young players into joining . . . and then sitting on the sidelines for a year or two before they actually get a game.
"I have no problem with people wanting to switch bands, if their intent is to further their playing, and it is their own choice," says one veteran piper with Grade 1 experience and currently with a lower-grade band, who asked that his name not be used. "My problem is when players are approached who are happy playing in a band that is progressing, and want to be a part of it, and are led to believe that they will make the field no problem with the higher-grade band, and told that the band they are in is [crap] and going nowhere."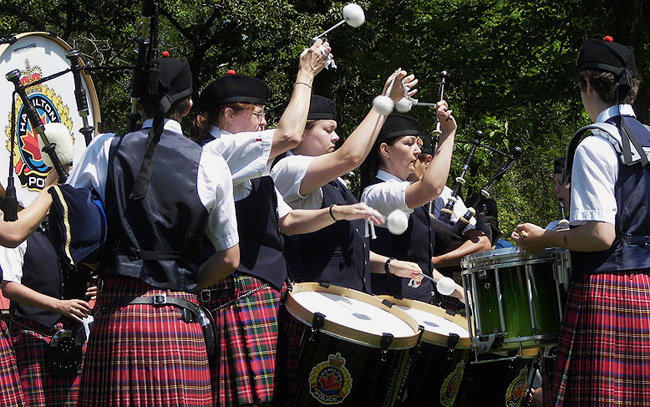 Kirkwood continues: "What sometimes becomes frustrating is when a player is approached by a higher-grade band; however, the player is not yet proficient in some or all of the key band elements of musicality, timing, technique, and instrument mastery. It becomes even more disappointing when the player sits on the sidelines and doesn't play the following year. How does this help either band or the player?"
The situation becomes difficult when a region is not producing enough local pipers and drummers to make the area's top bands competitive nationally or internationally. The lack of new players is usually the fault of the local bands or association not doing enough teaching but, while they have few to blame but themselves, they have no choice but to recruit heavily and assertively, inevitably ruffling a few feather bonnets. It might surprise international readers that these depleted regions include places in Scotland outside of the Central Belt" between Edinburgh and Glasgow.
But even bands based in that area will take an assertive approach to recruitment in order to keep up the numbers.
"I firmly believe that 'poaching' is a non-starter," said Chris Armstrong, pipe-major of the Grade 1 ScottishPower in Glasgow. "It doesn't exist except in the heads of the band or organization an individual is leaving. My question in return to a comment about poaching would be this: why did the player leave the band or organization if they were happy in the first place? It's not a crime to ask or be approached by an individual who wishes to improve and cannot see a way forward for that to happen in their current situation."
And some might assume that top-grade bands in the Greater Toronto Area are flush with personnel, but it's still a fight to stay competitive. The Grade 1 Toronto Police Pipe Band is the only one of the four Grade 1 Ontario bands that has an established teaching system, with a Grade 3 band and the Grade 4 Ryan Russell Memorial. The Grade 1 Ottawa Police have elected to sit out 2017 as they rebuild and reconsider their options, while the Grade 1 Peel Regional Police are set to deploy a new training program. In the meantime, it's a challenge to sustain numbers.
"No doubt there are people out there who feel that the Grade 1 bands should simply go after players who are already at the grade level," says Peel Police Pipe-Major John Cairns. "I would love to be able to do that, but the reality is that we have four Grade 1 bands vying for the same talent pool in southern and eastern Ontario. Because of this, the number of qualified players who are available, at the grade and want to play in Grade 1 has pretty well been exhausted.
"From a recruitment perspective, there is no point in thinking that any of the existing Grade 1 players will want to change bands – why would they? Why risk relationships, friendships, etc. to go to another band that for all intents and purposes are close in standard? Additionally, with the large numbers needed on an international stage to be competitive, even with the addition of some quality distance players, we are still struggling to have sufficient numbers who are at a true Grade 1 standard."
Cairns confirmed that his organization has received approval to start a developmental program. They hope to have a formal teaching program in place . . .