Police pipe band spoils attack in DC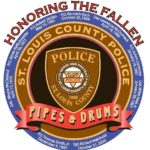 Most pipe bands practice attacks again and again, but few if any get to thwart them.
The St. Louis County Police Pipes & Drums were in Washington, DC, for National Police Week, an annual event that honours fallen officers across the country, when five members of the band happened upon a fellow off-duty officer, also in DC for the event, having trouble trying to arrest a robbery suspect.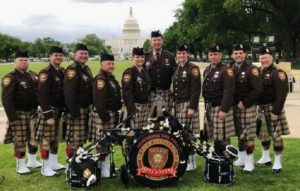 On May 13, Juan Gomez, David Sandbach, John Spicer, Dan Steele and Chris Steib – all members of the band and current or retired police officers – sprang into action, getting the suspect under their control, after the man and five others allegedly jumped a man, stealing his phone, and leaving him battered. The other suspects reportedly escaped.
Of note, Sandbach is the son of the late Bill Sandbach, the long-time pipe-major of the St. Louis Shriners, a non-competing band that regularly performed throughout the Midwestern city. He and Steele are regulars at the St. Louis Drones Club, a monthly informal meeting at a pub in the city's Central West End where pipers and drummers gather for impromptu piping performances.
Police forces around the world have traditionally supported pipe bands, dating back to 1883 and the Burgh of Govan Police Pipe Band, which would later became the Glasgow Police Pipe Band, which continues to be a staple in Grade 1. Until the 1970s, the majority of the playing members of police bands were serving officers, but today relatively few serving officers are in their ranks.
---
Related articles

Drones Club energizes St. Louis
December 6, 2017
---

Hudson, Carlisle winners in St. Louis
September 30, 2018