Recitalist-contestants set for Capt. John MacLellan Memorial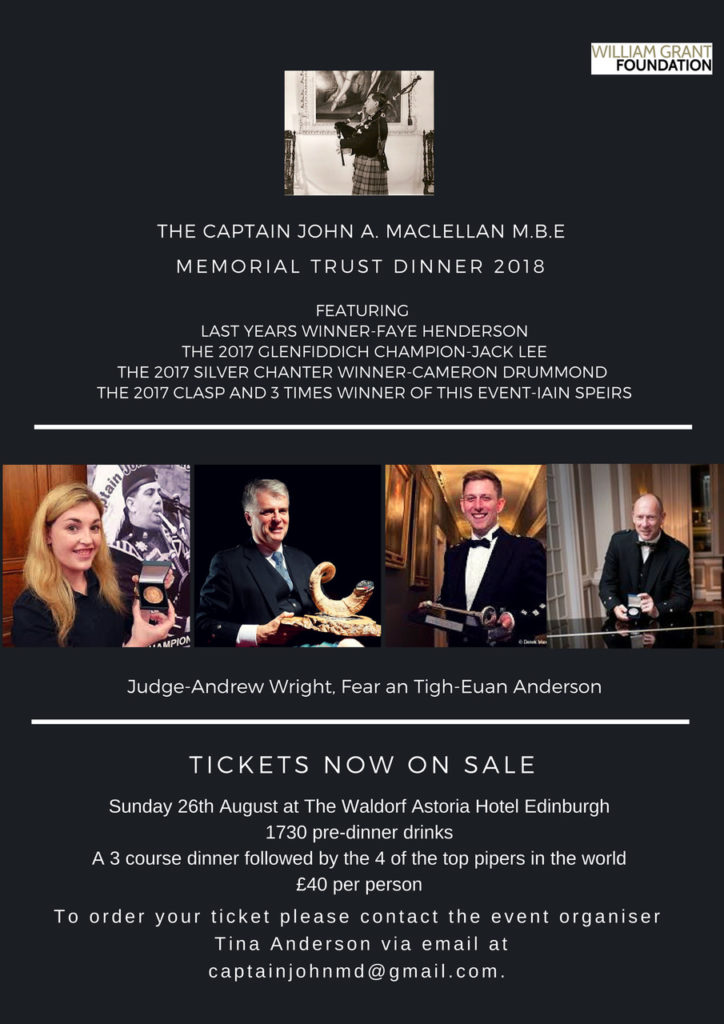 The invited soloists for the Captain John A. MacLellan MBE Memorial Trust Dinner on Sunday, August 26, have been confirmed, featuring two former winners, three who live in Edinburgh and, for the first time, a Canadian.
Cameron Drummond, Edinburgh
Faye Henderson, Edinburgh, "Am Bratach Gorm"
Jack Lee, Surrey, British Columbia, "Salute to Sir John A. Macdonald, Canada's First Prime Minister"
Iain Speirs, Edinburgh, "The Salute to the Piobaireachd Society"
The black-tie event, sponsored in part by the William Grant Foundation, will take place again at the five-star Caledonian Waldorf Astoria Hotel in the heart of Edinburgh. Each piper is assigned a tune composed by, or strongly associated with, the late Captain John MacLellan, voted one of the 20 Greatest Pipers of All-Time by a pipes|drums panel of experts.
+ The Greatest 20 Pipers in History
Speirs has won the competition three times, making him the only repeat winner of the event since its inception in 2011. Henderson won it in 2017.
+ Faye Henderson wins MacLellan Memorial Medal
Tickets to the usually sold-out event are £40 each, and include beverages and a dinner put on by the head chef of the hotel, considered one of the best in the UK. Tickets are available by email request from the organizers.
It will be the sixth time that the competition has been held since 2011. Until the William Grant Foundation stepped in with sponsorship in 2015, it was staged bi-annually.
This year the event is being moved to the Sunday, the day after the final night of the Edinburgh Festival so as to avoid the loud celebratory fireworks show around neighbouring Edinburgh Castle. The timing also allows pipers visiting Scotland to compete at the Argyllshire Gathering and Northern Meeting to attend the event in between those competitions.
Andrew Wright will judge the competition.