Red Deer win for Rocky Mountain
Red Deer, Alberta – June 17, 2017 – The outdoor Alberta  pipe band season kicked off with the annual Red Deer Highland Gathering attracting bands and soloists from across the prairies. The City of Regina   made the trek from Saskatchewan, making for a great Grade 2 contest. Weather was pleasant with temperatures hovering around 19 degrees with a mix of sun and cloud throughout the day. Rocky Mountain won the day in the Medley contest, with all Grade 2 band being asked to perform their medley selections in concert formation for the spectators in attendance. Grade 2 bands also played their MSR for judges' comments only.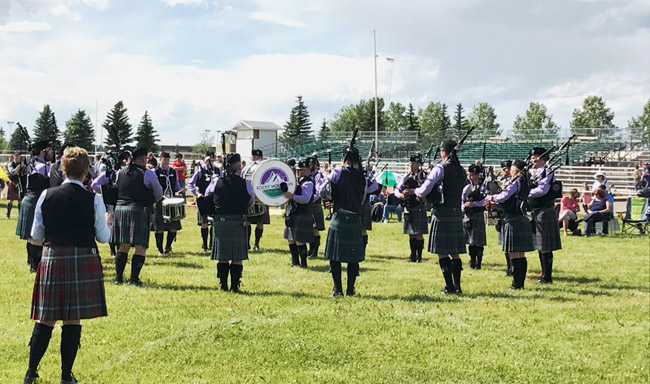 Grade 2 (Medley)
1st Rocky Mountain (1,1,1,2)
2nd North Stratton (2,2,2,1)
3rd City of Regina (3,3,3,3)
Grade 4 (medley, one competed)
1st Edmonton & District
Grade 5 (quick march medley)
1st Grande Prairie & District
2nd Alberta Fire Fighters
3rd 78th Fraser Highlanders Youth Squad
4th Ogden Legion
5th Edmonton Youth
Judges for all band events: Dave Hicks, Ann Gray (piping); Andrew Miller (drumming); Tim Boan (ensemble).
Professional Solo Piping
Piobaireachd
1st Raphael Mercier
2nd Robyn Gray
3rd Tim Sharon
Judge: Andrew Smith
MSR
1st Stewart Smith
2nd Raphael Mercier
3rd Ron McRae
4th Robyn Gray
Judge: Sean Somers
Jig
1st Stewart Smith
2nd Robyn Gray
3rd Raphael Mercier
Judge: Dave Hicks
Got contest results to share with the world? Feel free to send them in using the format above, along with a photo or two!