Retirement policy adopted at SPJA meeting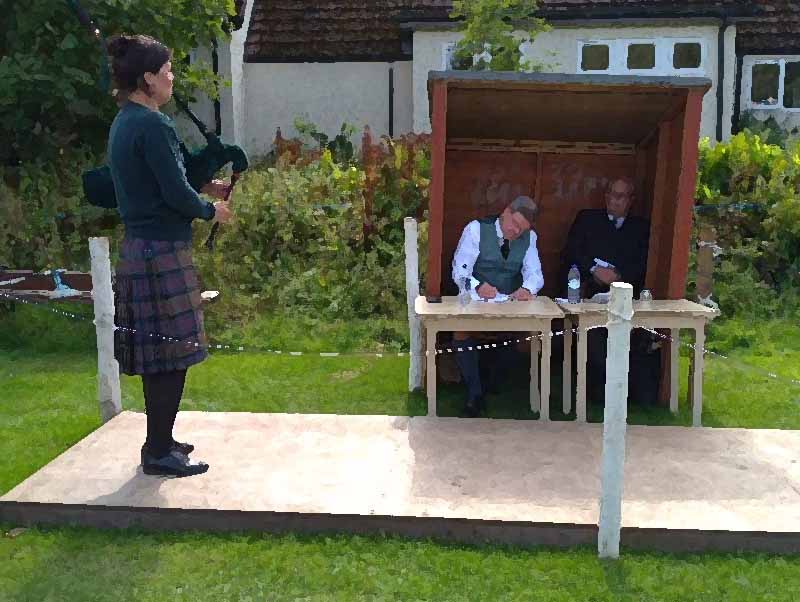 The annual general meeting of the Solo Piping Judges Association took place at the Army School of Piping & Highland Drumming on November 18th, and a well-attended event saw a changing of the guard with Roddy Livingstone taking over the Secretary's role from Jack Taylor, who retired from the position but stays as a member of the organization.
Colin MacLellan was re-elected as Chairman and Euan Anderson remains as the association's Treasurer. The committee stays unchanged with Dr. Angus MacDonald, Bruce Hitchings and Neill Mulvie.
The meeting saw the retirement of stalwart Dugald MacNeill from the association who was thanked by the chair for his long service and significant contribution to judging and piping in general.
Taylor and MacNeill were presented with gifts to mark their departure.
There are now 52 members of the association and the SPJA's amended list of judges will be released at next week's Joint Committee for Solo Piping Competitions, and posted on the association's new web site.
The main matter of business saw the adoption of a Retirement Policy that will be added into the SPJA's constitution:
A judge wishing to retire from the association for any reason should inform the committee. A judge should retire if the ability to judge effectively is impaired. Reasons might include difficulty sustaining concentration or memory impairment.
It is incumbent on the judge to inform the committee in such cases.
If this is not done and there is evidence of such impairment, the committee may, following due consultation and discussion with the judge concerned, remove the name of that judge from the list.
The health and safety of judges at competitions, applications and grading of new judges were discussed. After a short discussion it was agreed that health and safety issues are the responsibility of event organizers and the status quo remains regarding the assessment and grading of judges.
"We were delighted by the large turnout of members, in an age in which attendance at these kinds of meetings traditionally is low, we were pleased that forty percent of our membership attended, even in consideration of the fact that judges live far and wide in every part of the UK and also that we have of course a significant overseas contingent who are unable to attend," MacLellan said. "In addition, we were pleased to welcome some of the very top pipers from the CPA who participated fully in our seminar and who contributed keenly in the proceedings. We are an open and transparent organization and are delighted that we are able to work in harmony with all of the other groups involved in the organization of piping in Scotland".
With business concluded several senior competitors joined for the afternoon's seminar.
Colin MacLellan presented a detailed paper by Dr. Angus MacDonald (who was overseas on judging duties) on the general principles of judging. This was followed by Competing Pipers Association President Glenn Brown, who chaired a discussion based on observations from the competitor's perspective and what judges are looking for in both light music and piobaireachd, generating healthy and constructive discussion about a wide range of topics.
Bruce Hitchings gave a short presentation about best practices that a bench might take when reaching a decision, and this was followed by a practical session on writing a scoresheet, or "crit sheet," for a competitor. It was generally agreed that the term crit sheet is not ideal terminology, but the session was well received by both judges and competitors alike.
Mulvie led a demonstration and discussion on writing a balanced assessment sheet, using a vintage recording of Roddy MacDonald of Glasgow, Highland Society of London Gold Medal winner at Oban, 1938, and Inverness, 1946.
Observations were made and noted that the association and their partners had a very constructive 2018 with the three major competitions adhering to the Approved Judges List and judges refraining from judging their pupils at the top three gatherings.