Rocky Mountain peaks again at Ellerslie
Ellerslie, Alberta – June 18, 2017 – The second of back-to-back games in Alberta took place in Ellerslie on the grounds of the Scottish Society of Edmonton. Weather was nice for much of the day, but band events had to be delayed in the afternoon due to severe thunderstorm warnings and high winds. Rocky Mountain again came out on top for the second day in a row, winning the MSR event.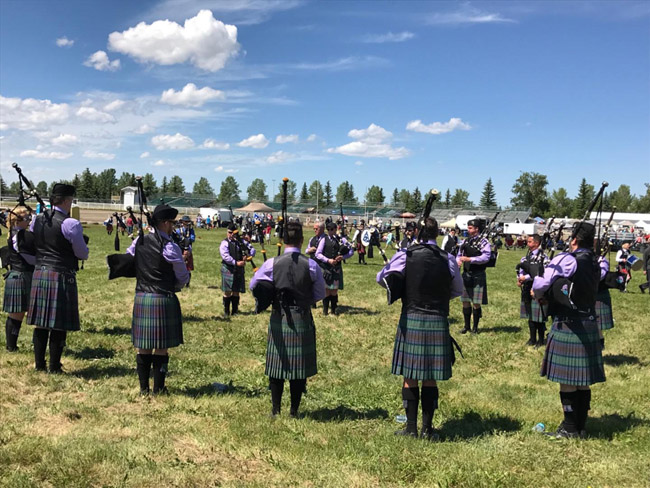 Grade 2 (MSR)
1st Rocky Mountain (1,1,2,2)
2nd North Stratton (2,3,1,1)
3rd City of Regina (3,2,3,3)
Grade 4 (march medley, one played)
1st Edmonton & District
Grade 5 (quick march medley)
1st Clan McNaughton
2nd Grande Prairie & District
3rd Edmonton Youth Pipe Band
Judges for all band events: Dave Hicks, Dave Trew (piping); Andrew Miller (drumming); Ann Gray (ensemble).
Professional Solo Piping
Piobaireachd
1st Raphael Mercier
2nd Robyn Gray
3rd Ross Barker
Judge: Dave Hicks
MSR
1st Raphael Mercier
2nd Stewart Smith
3rd Rob McRae
Judge: Dave Hicks
Hornpipe & Jig
1st Rob McRae
2nd Stewart Smith
3rd Raphael Mercier
Judge: Sean Somers
Got results you want to share with the piping and drumming world? Please feel free to send them to us by email using the format above along with a photo or two.