Roddy MacLeod wins eighth Bratach Gorm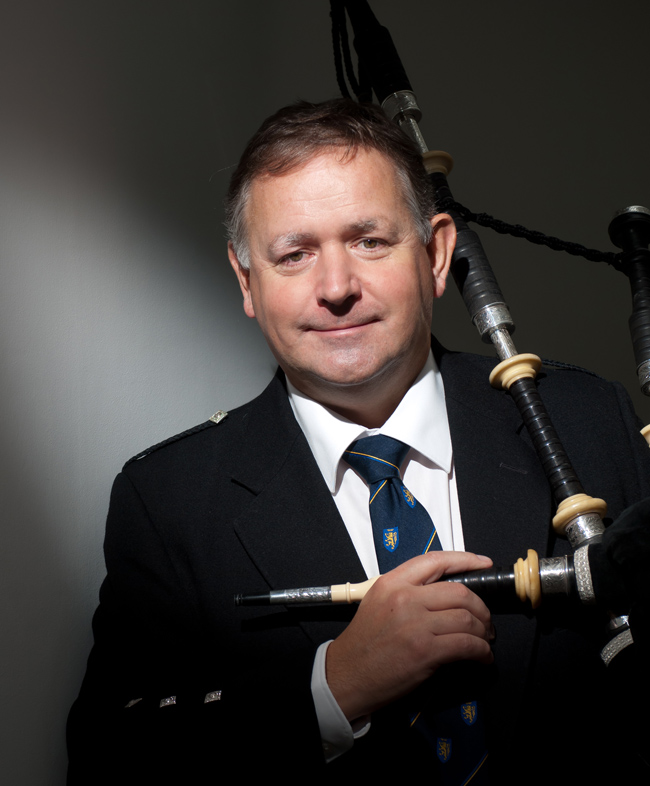 London – November 4, 2017 – The Scottish Piping Society of London held its 78th annual solo piping competitions at the Kensington Conference Centre, where Roddy MacLeod won the Bratach Gorm for piobaireachd, thus qualifying for the 2018 Glenfiddich Championship. It was the eighth time that MacLeod has won the prize. Bruce Gandy of Dartmouth, Nova Scotia, was the aggregate winner of the Premier-Grade events, and also gains an invitation to the 2018 Glenfiddich.
The competition started at about 8:30 am and the final prizes were given out around 7 pm.
Bratach Gorm
1st Roddy MacLeod, "Lament for the Viscount of Dundee"
2nd Callum Beaumont, Linlithgow, Scotland, "Lament for Ronald MacDonald of Morar"
3rd Bruce Gandy, "The Big Spree"
4th Jack Lee, Surrey, British Columbia, "Lord Lovat's Lament"
5th Finlay Johnston, Glasgow, Lament for the Children"
Judges: Ian Duncan, Stuart Samson, Andrew Wright
Premier/A-Grade
Piobaireachd (William Gillies Cup)
1st Iain Speirs, Edinburgh, "Nameless" (cherede darieva)
2nd Bruce Gandy, "Lachlan MacNeill Campbell of Kintarbert's Fancy"
3rd Alasdair Henderson, Glasgow, "My King Has Landed in Moidart"
4th Glenn Brown, Glasgow, "Beloved Scotland"
5th Jamie Forrester, London
Judges: Archie MacLean, Willie, Morrison, Bill Wotherspoon
Premier-Grade
MSR (London Medallion & John MacFadyen Quaich)
1st Finlay Johnston
2nd Jack Lee
3rd Seumas Coyne, Van Nuys, California
4th Alasdair Henderson
5th Callum Beaumont
Judges: Jimmy Banks, Walter Cowan, Jack Taylor
March (P-M J.B. Robertson Silver Rose Bowl)
1st Bruce Gandy
2nd Roddy MacLeod
3rd Finlay Johnston
Judges: Bob Worrall, Andrew Wright
Hornpipe & Jig (Mary Flora Beaton Cup)
1st Bruce Gandy
2nd Alasdair Henderson
3rd Roddy MacLeod
Judges: Bob Worrall, Andrew Wright
Grade A/B+
Piobaireachd (R.G. Lawrie Ram's Horn Snuff Mull)
1st Peter McAllister, Dunblane, Scotland
2nd Derek Midgley, New Jersey
3rd Jamie Forrester
Judges: Ian Duncan, Stuart Samson
MSR (Strachan Memorial)
1st Darach Urquhart, Glasgow
2nd Callum Moffat, Lockerbie, Scotland
3rd Ben McClamrock, Washington, DC
Judges: Walter Cowan, Iain McLellan
Jig (Donald Forbes Medal)
1st Andrew Donlon, Washington, DC
2nd Callum Moffat
3rd Darach Urquhart
Judges: Walter Cowan, Iain McLellan
B-Grade
Piobaireachd (John Roe Plate)
1st Eddie Gaul, Dundee, Scotland
2nd Ben McClamrock, Washington, DC
3rd Gavin Ferguson
4th Steven Leask, Glasgow
5th Sarah Muir, Glasgow
Judges: Logan Tannock, Robert Wallace
MSR (London Scottish Hodden Grey Trophy)
1st Matt Wilson
2nd Andrew Donlon
3rd Greig Canning, Edinburgh
Judges: Dixie Ingram, Iain McLellan
Jig (Hugh MacMillan Trophy)
1st Ross Cowan, Annan, Scotland
2nd Matt Wilson
3rd Eddie Gaul
Judges: Archie MacLean, Willie Morrison, Bill Wotherspoon
C-Grade
Piobaireachd (National Piping Centre Trophy)
1st John McElmurry
2nd Ciaren Ross
3rd Gwenael Dage
Judges: Euan Anderson
MSR (P-M Robert Crabb BEM Trophy)
1st Ciaren Ross
2nd Dan Nevans
3rd Andrew Hutton
Judges: Jimmy Banks, Dixie Ingram
Hornpipe & Jig
1st John Dew
2nd Matt Supranowicz
3rd Kyle Shead
Judges: Euan Anderson