RSPBA issues roster form to world associations
Making good on its move to get tough on bands bolstering rosters with short-term fly-in players from higher grade bands, the Royal Scottish Pipe Band Association has circulated its "Home Association Supplemental Pipe Band Roster Form" to pipe band associations around the world
The form, included here, came from RSPBA Music Board member Bruce Cargill, and is designed to help the organization monitor band personnel, particularly at the World Pipe Band Championships, so that they adhere to the new rule for playing members joining lower-grade bands needing a minimum of 42 days to make the official switch.
The rule applies to all bands competing at competitions sanctioned by the RSPBA. The move was allegedly mainly intended to address recognized and perceived problems with mostly non-RSPBA member bands bringing in ringers from higher grade bands to improve their performances at the World's.
+ RSPBA cracks down on ringers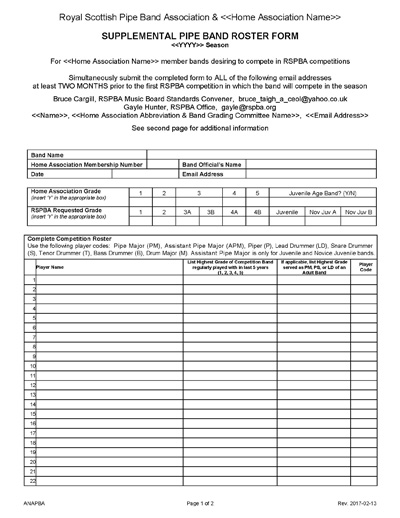 The issue of temporary fly-in players in general remains contentious. There is a two-week transfer window for pipers and drummers to official resign a band and join a new group, meaning that many bands, especially in the top grades, feature players on the field who would not normally compete with the band. The practice is even more pronounced in competitions in New Zealand and Australia, when bands in the northern hemisphere are in their off-season.
Of particular note, the form includes a clause reading, "Bands may be regraded at any time based on significant personnel changes." The RSPBA has regularly re-graded non-RSPBA-member bands that enter its competitions, and has even taken it upon itself to permanently regrade bands from other associations as part of its own annual assessment.
"The two things that strike me are that it's an interesting approach from that RSPBA, which seeks to collaborate with other pipe band associations, providing a form that they can 'brand' themselves, and it also underlines that the RSPBA does not necessarily accept the gradings given by other pipe band associations and will grade as they see fit," said one association representative who commented on condition of anonymity.
The form provides space for 50 roster members, fewer than many top-grade bands have on their books.