Sandy Hain, 1928-2018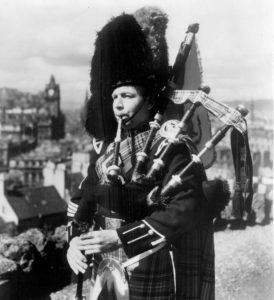 Born September 27, 1928, in Leslie, Fife, Scotland, Alexander "Sandy" Hain passed away on March 28, 2018, in Cleveland, Ohio.
He was the eldest of nine children. His interest in bagpipes started at the age of four after seeing a picture of his father in the paper playing the pipes. Sandy's father was a piper in the Black Watch during World War I, and Sandy's grandfather was also a piper. Sandy's father founded the Cupar & District Pipe Band. His brother, Robert, was also a piper in the 1st Battalion Black Watch, and his sister, Jean, was pipe-major of the World Champion Lochgelly Ladies Pipe Band.
Sandy's serious tuition began at the age of eight with the Thornton Pipe Band. At the age of 14, he enlisted in the Black Watch Cadet Force and, at 17, enlisted in the British Army as a "five and seven," meaning that he would be enlisted as regular army for five years with an additional seven in the reserves. His first assignment was with the 1st Battalion Black Watch, stationed in Germany, under Pipe-Major James Jenkinson. This included a rotation at Spandau Prison guarding Nazi war criminal Rudolph Hess, considered the number-three man in Hitler's regime.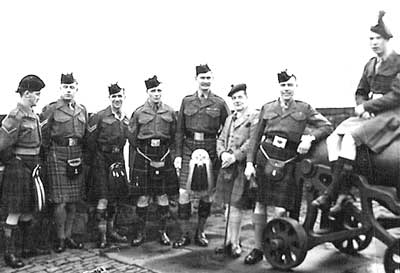 The band performed at numerous folk festivals in France and Switzerland. Among the notable members of the band at this time was George Lumsden, who later became pipe-major of the Edinburgh City Police Pipe Band, and Jim Greig, who went on to play with the Edinburgh City Police and later immigrated to Canada to become pipe-major of the famed Clan MacFarlane from St Catharines, Ontario. In addition to being a piper, Sandy was also in charge of the Edinburgh Police Highland dancing team.
In 1950, Sandy was selected for the Pipe-Majors' Course at Edinburgh Castle where his instructor was the legendary Pipe-Major Willie Ross. In 1952, Hain was appointed pipe-major of the Depot Black Watch and later the 2nd Battalion Black Watch. Much of this time, the band was stationed in Georgetown, British Guyana.
In 1957, the 1st and 2nd Black Watch Battalions were merged, stationed at Redford Barracks, Edinburgh. Because of longer service time, John MacNichol became pipe-major of the merged unit and Sandy became its pipe-sergeant. The band combined band performed at Edinburgh Castle for the Royal Edinburgh Military Tattoo, the Royal Tournament in London, the United States and Canada.
In 1958, Sandy decided it was time to move back to civilian life. So in April 1958 he was "demobbed" (de-mobilized), the UK version of an Honourable Discharge, and sailed from Liverpool to New York City.
While touring with the Black Watch in the United States, the Black Watch performed in Cleveland where Sandy met Bob Donaldson, who was a good friend of Canadian pipers John Wilson and Bob Callander. The two Bob's sponsored Sandy so that he would take over the Cleveland Kiltie Band, the oldest pipe band in Cleveland. Upon arrival, Sandy was made pipe-major of the band.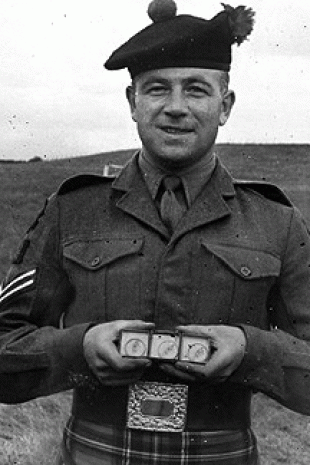 During this period, Sandy competed at a number of Highland games, including new competitions at Ligonier, Pennsylvania, and Grandfather Mountain, North Carolina, as well as competing at more established competitions in Canada such as the Hamilton Highland Games. He also began teaching, which was his true passion, especially piobaireachd, his favourite music to both play and teach. His Red Hackle School of Piping was associated with the College of Piping in Glasgow. Sandy was approved to administer level tests at the school on behalf of the College.
During the day, Sandy worked as a superintendent at a local cemetery, but he quickly saw other opportunities. At the time, it was difficult to get bagpipe supplies, as there were no local bagpipe and pipe band product retailers. Sandy began to sell bagpipe products and, later, Scottish jewelry, while working with John Kirkwood Sr. of St. Catharines, a drummer in the Argyll & Sutherland Highlanders, who immigrated to Canada to become Clan MacFarlane's lead-drummer.
In addition to the pipes, Sandy was an accomplished accordion player. In 1966, he started "Sandy Hain & the Clansmen," a Scottish dance band, that became a staple in the Scottish community of Cleveland for 42 years.
Sandy Hain always encouraged those wanting to play at higher levels to do so. In 1975, a small group of players from Cleveland Kiltie wanted to compete. Under the direction of Tom Hastings, this group, combined with a few members from the rival Cleveland Caledonian, formed the Western Reserve Pipe Band, which would be led later by Noel Slagle. Too often, in modern times, bands that teach younger players try to prevent them from moving on to higher levels. This was not the case in Cleveland, as it was a matter of pride to both the teachers and members of both the Cleveland Kiltie and Caledonian to have players go on to play with the Western Reserve. Much of this was due to Sandy's influence.
Interest in bagpipes increased in this period. To have more time to teach, Sandy sold Gaelic Imports and devoted more time to teaching. He also had the opportunity to refine his reedmaking abilities. Sandy was first educated on reed making from Frank Bain, father of Allister Bain, as students at the Pipe-Majors' Course all went to his shop for their personal reeds. Reeds for those in the Pipe-Majors' Course were supplied reeds by Willie MacCrostie, an ex-Cameron Highlander. However, for personal playing, they went to Bain for reeds. Sandy learned further from Slagle, who had learned the art from Shotts & Dykehead Pipe-Major Tom McAllister. Sandy's reedmaking business took off, and his days were filled with piping instruction and reedmaking. Over the years, he consulted with a number of reedmakers, sharing his process and improving his own. Several of today's reedmakers, such as Adrian Melvin and Shawn Husk, exchanged ideas with him.
In 1998, a group of members of the Greater Cleveland Peace Officers Memorial Pipe Band wanted to test their hand at competing, so Sandy formed the Red Hackle Pipes & Drums, and he continued to be involved until his final days.
An avid composer, Sandy has had a number of tunes published. A few of his compositions are included in the Black Watch Pipe Manual, which is limited to tunes written by current and former Black Watch members for Black Watch members. The Manual includes seven of his compositions including "Donald McKillop" (often erroneously referred to as "Duncan McKillop"), a popular tune written in 1951 for a member of the Royal British Legion in Scotland. He also composed "The Heroes of The Hook," written after a 1952 battle by the 1st Battalion Black Watch in 1952, Korea; "Lieutenant Colonel B.C. Bradford," a famous Colonel in the Black Watch 1st Battalion; "Major General A.L. Watson CB;" "Lieutenant Colonel Freddie Burnaby-Atkins;" "Freuchies March to Lords;" and "Farewell to the Black Watch," a piobaireachd composed following the absorption of the Black Watch into the Royal Regiment of Scotland in 2006.
As with many parts of US and Canada, those in Northeast Ohio owe the generation before us a great debt of gratitude for passing along the passion of the bagpipes to us the effects of which will be felt for many years to come.
Our sympathies go out to Sandy Hain's family and his many friends at this sad time.
– Submitted by Barry Conway