Second Bagpipe Makers book goes on sale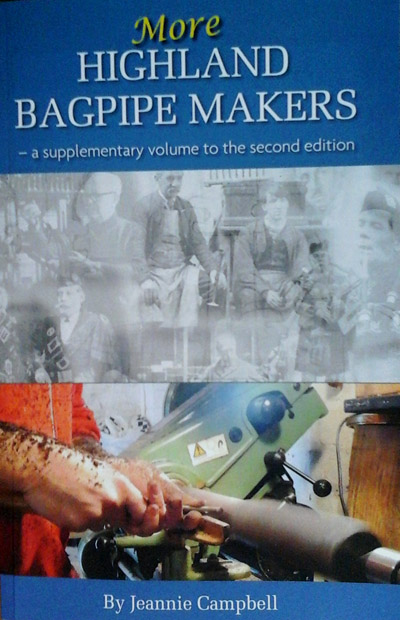 Jeannie Campbell received an MBE for her contributions to piping, and now the Glasgow-based author and piper adds to her life's passion with a follow on to her 2001 book, Highland Bagpipe Makers, with the 418-page More Highland Bagpipe Makers.
+ Jeannie Campbell receives MBE for Services to Piping
The book will be formally launched during Piping Live! at an event on Monday, August 7th, at the College of Piping in Glasgow starting at 11:30 am. The book will be on sale at the College thereafter.
More than 60 additional Highland bagpipe makers are profiled in the supplementary volume, as well as further material on makers already covered. More Highland Bagpipe Makers will also be available at the MacMurchie Bagpipes stand at George Square and at Glasgow Green during the World Pipe Band Championships.
"The story of this book goes back to 2001 when the first edition came out," Campbell said. "Afterwards, several readers got in touch and gave me bits of information to follow up, photographs, price lists and even some chanters. The book sold out in five years, but I was still getting requests for it so I did the second edition in 2011, which included everything in the first book plus additional information."
Copies of the second edition of the first book are still available, and More Highland Bagpipe Makers includes content discovered in recently released newspaper archives, census surveys and other records.
"The latest book . . . does not repeat anything in the second edition, but has additional information on makers already covered plus nearly 70 more makers. So it is no use reading the new book unless you have already read the previous one. The new makers include many from around the world: Canada, USA, Australia, New Zealand and Africa, some born in those countries and others with previous experience in Scottish firms. In addition there are more from Scotland, Ireland and England."
Campbell added that the new book "is not . . . about identifying bagpipes, but is the story of the lives and careers of the men who made them."
She said that among the many stories in the book is one of "a Polish ex-serviceman who made pipes for David Glen and afterwards immigrated to Canada with David Glen's lathe and a stock of wood and ivory. He continued to make pipes for many years so some of his instruments may still be in circulation."
Also among the stories in the new book is that of Duncan Campbell, taken from pipes|drums' story about the R.G. Hardie bagpipe turner who enjoyed a career of almost 50 years before retiring in 2011.
+ Turnin' turnin' turnin' . . . R.G. Hardie & Co. celebrates Duncan Campbell's 49 years of service