SFU Carnegie Hall concert performers reunite 20 years on
It was February 20, 1998, when the Grade 1 Simon Fraser University Pipe Band of Vancouver, and more than 25 bands members, Highland dancers and supporting cast got together at a casual reunion at Club Ilia on the Simon Fraser University Burnaby campus to mark the milestone.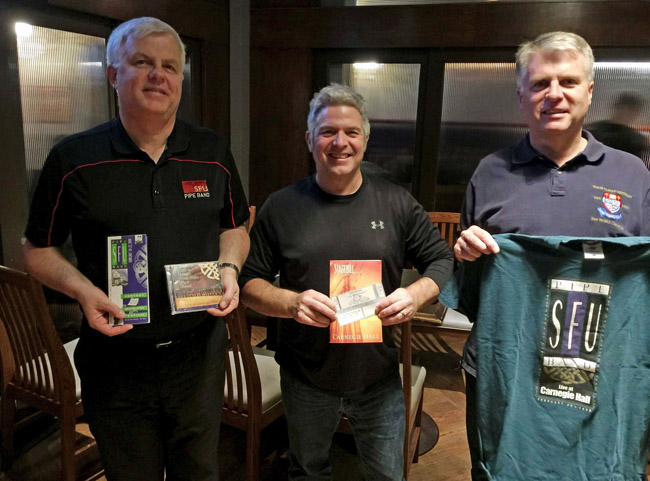 No pipe band had then or since has performed at Carnegie Hall, one of the world's greatest concert venues, located in the heart of Manhattan.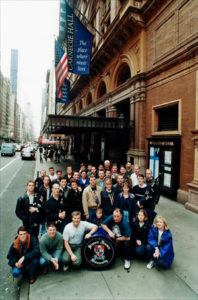 "Performing at Carnegie Hall 20 years ago was a wonderful experience for the SFU Pipe Band," said Jack Lee, who was then and remains pipe-sergeant. "A full house – an extremely enthusiastic and very, very loud audience. The band had recently won its first two World Championships and the crowd was electric. It was a great night and we look back on it very fondly."
More than 2,100 people attended the concert delivered by a complement of 19 pipers and 14 drummers, including current Inveraray & District Pipe-Major Stuart Liddell, future Grade 1 Toronto Police Pipe-Major and current director of the College of Piping at Summerside James MacHattie, current Grade 1 Dowco Triumph Street Pipe-Major David Hilder.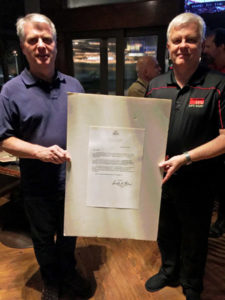 The New Jersey Governor Christine Todd Whitman proclaim February 20th as "Simon Fraser University Pipe Band Day" in the state. Just before the 1998 concert, George Haynal, Canada's consul general in New York City, hosted a reception for SFU alumni, university representatives, and local friends of the Highland arts.
The event was attended by many dignitaries, including the ambassador and consul general of Japan, and his son, both pipers. Later in 1998, the band released a full CD capture of the concert, Live at Carnegie Hall.
SFU still holds the benchmark for high-profile pipe band concerts. In addition to Carnegie Hall, the band has performed at iconic venues like Lincoln Centre in New York, Massey Hall in Toronto, and the Sydney Opera House in Australia, not to mention two sold-out Pre-World's shows at the Glasgow Royal Concert Hall.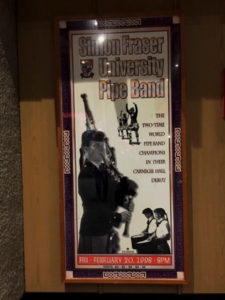 + SFU to Perform at Sydney Opera House
The band's budget for the Carnegie Hall concert and a Highland Arts Festival in New York was about US$100,000, and the group said at the time that it just broke even monetarily on the investment, but made invaluable pipe band history and memories in the process.
The band went on to win another four World Pipe Band Championships under Pipe-Major Terry Lee.